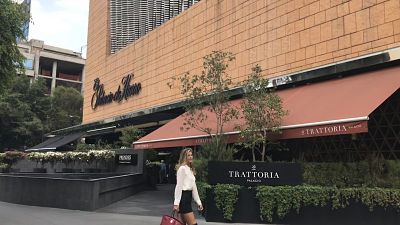 Mexico City is an enormous, bustling metropolis filled with stories.
Situated in a valley between large mountains, I recall being mesmerized by the size and extreme poverty when I first landed here 17 years ago. I can't profess my love enough for this country and its extremely warm-hearted family-oriented people. Upon my return, the snarls of traffic, hidden homes watched by security guards and the warm sunshine are instantly recognisable.
Mexico city overwhelms your senses, with colourful churches, luscious green parks filled with unique tropical plants, and street vendors offering tasty tacos. Historians seeking cultural 'food for the soul' will find an abundance of historic architecture and stunning cathedrals here. Visit the pretty districts such as Polanco and Lomas to enjoy traditional cuisine, shopping and nightlife. Do not worry about walking around in Polanco when choosing a restaurant, it is fairly safe, unlike the impression you might get from the news. However, it's a good idea not to attract attention by wearing flashy jewelry.
A Hotel
Live Aqua Hotel and Spa, a large boutique-inspired gem, offers seductive comfort. Innovative and elegant interior modern design with playful architectural accents, enchanting aromas when you walk in and an ambience that always inspires.
It is located in one of Mexico's most exclusive neighbourhoods, next to Arcos Bosques shopping centre, known for its high-end designer boutique shops and fine restaurants. A trendy happening bar filled with locals is a great spot for a drink before dining at their Signature 'Nobu.'
Their 'Feel Urban' Spa offers body treatments, facials, a hydrotherapy sauna, steam and Swiss pressure shower which makes this such a lovely oasis to escape the loud streets outdoors.
A Sight
Where do I start? The cathedrals and architectural wonders of Mexico are breathtaking. As you wander, you find little, hidden churches in between busy streets - so always keep your eyes open.
The Museo Nacional de la Cartografía is located within a former cathedral.
On the outskirts of Park Bosque de Chapultepec you will find La Fuente de Petroleos - a monument in the middle of the freeway commemorating the nationalisation of the country's oil industry.
The grounds contain many treats; a Zoological park, National museum of Anthropology and of Modern Art and various monuments but nothing compares to the grand Castle Chapultepec in the south east side.
A Restaurant
The San Angel Inn is a well-known hacienda-style restaurant, loved by locals, tourists for its traditional Mexican feel and design.
I particularly enjoyed Dulce Padria (in Polanco - en las Alcobas), a casual yet fine Mexican cuisine experience. From tropical-infused ceviche trout with pineapple and mango to amazing colourful cocktails, they offer a completely original menu.
Even a plain Guacamole with cilantro tastes better with pomegranate. The Enchilada (homemade corn dish) with indigenous brown Mole sauce tastes slightly sweet and different to anything I've experienced. By far, the succulent soft Halibut was the best I've ever had! The dish, with lightly peppered pineapple, is perhaps the best demonstration of the skills of those in the phenomenal kitchen ! I later discovered that I have dined at its partner restaurant, Ella Canta in the Intercontinental hotel London.
A Purchase
Polanco has a new gorgeous dept store, El Palacio de Hierro with all the luxury boutiques, coffee shops and security to browse as a carefree tourist. Getting a blowout in Mexico is one of my favorite things to do, try Organe Beauty inside.
Do you like Tequila? Here you are overloaded with options! I prefer white or Blanco which is distilled, or anejo - various 'aged ' options from affordable Herradura Silver, El Jimador to more upscale Patron, Don Julio or most exclusive La Reserva Familia or '1942'. Depending on your preference and your budget you can spend anywhere from $10 up to $1000 !
Of course the hand painted arts and crafts can't be missed, sold by local vendors or at the airport. Buy a multi-colored Sombrero to hang on the wall or handmade skeleton representing "Dia de los Muertos" ("Day of the Dead").
_Follow me on Instagram: @island_natalie _