We continue our island hopping in the Indian Ocean's Seychelles, an idyllic place to surrender to the harmony of a natural world and discover island living. Walking barefoot into an aquamarine ocean, touching it's ivory powder sand beaches or exploring wildlife by bicycle is easy on La Digue, the third largest island. Hop over by ferry or helicopter to wander through pristine waters caressing the famous granitic boulders at Source D'Argent beach that has been the backdrop for many international ad campaigns. Island excursions are easy from here. Whether hiking, snorkelling, diving or fishing – it's a dream vacation for adventurers to explore local shops and fruit stands or to soak in its breathtaking views.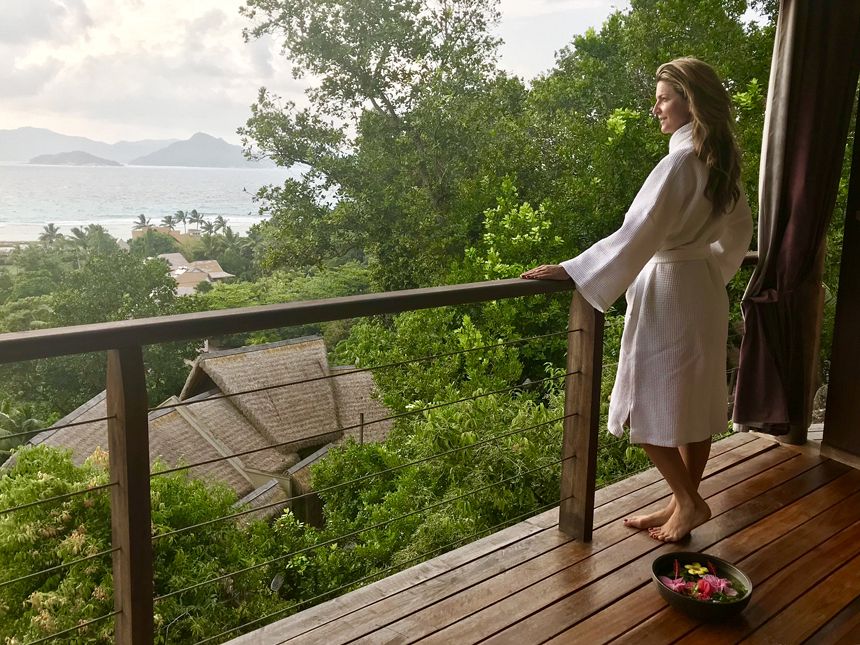 A Hotel
Le Domaine de L'Organgeraie, a Seychellois family owned resort is set in the mountain forest of this quiet island. A big metal gong sounds at your arrival by buggy after being picked up at the jetty close by. I notice the exceptional service and care of staff in every moment until escorted to one of the 65 villas of this resort. Thatched roofs, wood architecture, natural eco-friendly fauna surround you while driving up the winding paths to my Villa de Charme. Each villa has enchanting quality in an exceptional natural environment with stunning balcony views of Praslin island and an open-air rainfall shower. The earthy tones of the interior design of the rooms ensure guests a relaxing stay and the attention to detail at this amazing resort and spa pays homage to the natural beauty of the island.
Prices vary and garden villa rooms are the most affordable option. If you prefer to spend more time outdoors then select any of the local guesthouses. You can't go wrong, this island is well suited for self-catering themed tourists.
A Restaurant
For Creole cuisine try Le Bon Coin for local traditional dishes in the village. Open for lunch and dinner, it's menu has a variety of fresh seafood, curries and Asian foods that locals love. Try the crab in white wine sauce with island-breadfruit salad. Legend has it that once you taste this, it will guarantee your return to Seychelles.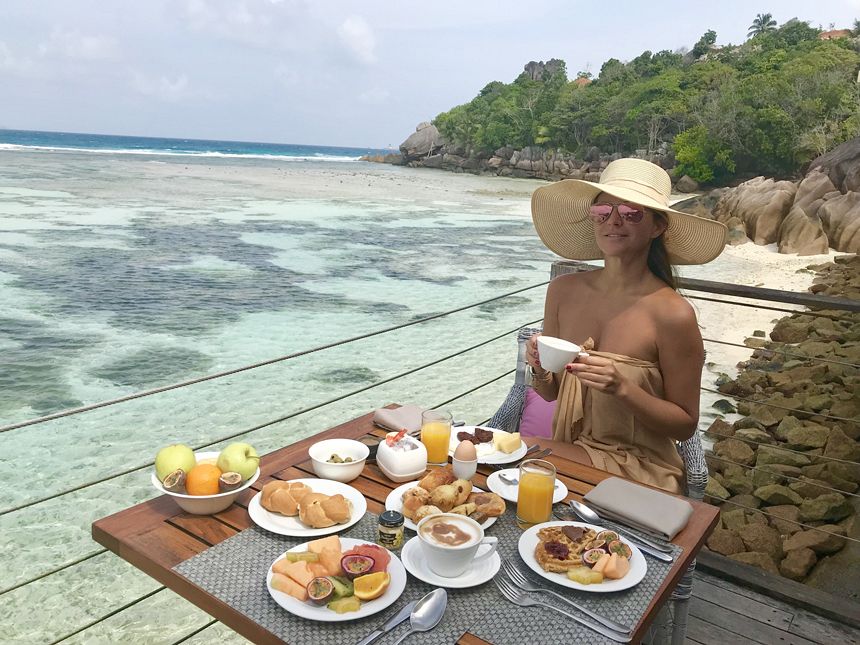 If you prefer a gourmet meal, Combava restaurant at Le Domaine hotel offers fine French cuisine by Master Chef Richard who combines local seasonal products and dishes with haute cuisine techniques to create splendid meals like carpaccio of octopus, local bat curry or spuma di mango in risotto, layered with arugula and scallops.
If you enjoy buffets like me, experience the eclectic live cooking show with nightly themes such as Indian, Mediterranean, Creole, or Asan at Santosha, which overlooks the ocean while your feet play with the natural sand floor.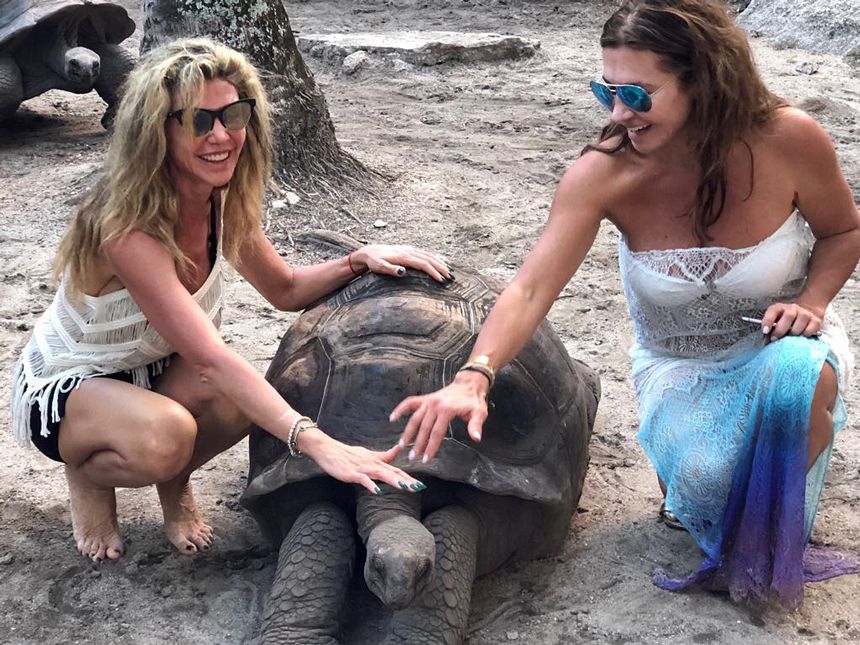 A Sight
Take a bike tour around this small island to explore your own little piece of paradise. It's an easy one hour ride from stunning Grand Anse beach that has a cafe with a buffet of Creole food and drinks. Taxis or tours can accommodate groups or bespoke tailored venues and hikers can venture up the mountains or wander off to hidden beaches.
Don't miss the L'Union Estate, once home to the German Mittermayer family. It's a private plantation estate set on the beach where copra (coconut extraction) farming upheld the livelihood of the locals and home to a large group of Aldabra tortoises. Don't be afraid to walk into the pen, they are curious large creatures that like to be caressed and may follow you around if not too lazy that day.
Feed them with green leaves and be cautious with children's hands close to their mouth. These sleeping giants look like dinosaurs and can age up to 200 years. Did you know that Esmeralda, on Bird Island, is the oldest tortoise in the Guinness Book of World Records.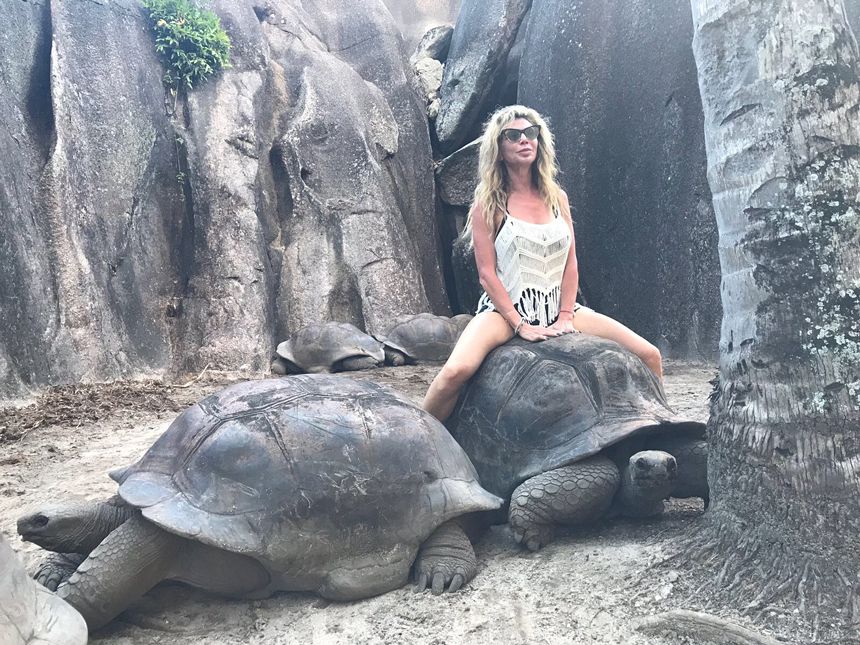 A Purchase
I purchased a few Pareos, also referred to as Sarong or bathing wrap in vibrant colours with hibiscus motif or fairy fern – paradise bird. Most are made of cotton but fancier silk styles are fun with/without a "Seychelles" signature label. Visit Kankan boutique in International duty-free at the airport when returning home for silk batik elegant designs made by Karine. Or buy a Coco de Mer liquor called Coco d'Amour, that stems from the largest seed nut in the world and tasted sweeter than a milky Baileys. A beautiful gift or keepsake for your own bar at home. Served best with ice to sip after a tasty meal.
Follow my journeys on Instagram:
island_natalie or wander_beyond