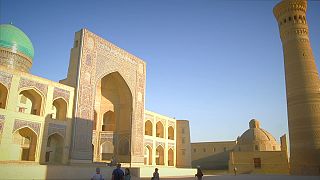 Our Postcard this week comes to you from the heart of the ancient Uzbek city of Bukhara.
Key facts about Uzbekistan:
It's in Central Asia, with neighbours including Kazakhstan, Turkmenistan, Kyrgyzstan & Tajikistan
With a population of more than 30 million, the ex-Soviet republic became independent in 1991
The total land area is 425,400 km2, with plains covering about four fifths of the territory
The average winter temperature is -6 degrees celsius and in summer it rises above 32
Almost 80 percent of the population is Uzbek and the main religion is Muslim (88 percent)
The Poi-Kalyan complex has become the iconic image of the city, with its masterpieces of Islamic architecture that date back hundreds of years.
Euronews' Seamus Kearney reported from atop a tall tower: "And it's this monument, called the great minaret, that dominates the Bukhara skyline.
"It's part of the mosque, but in the old days it was also used as a watchtower, standing at a grand height of about 47 metres."
The minaret is one of the oldest monuments in Central Asia and Poi Kalyan means "at the foot of the great".
Zarina Rakhimova, a Bukhara guide, told Postcards: "Poi-Kalyan consists of three main monuments: a minaret, a madrassah and a mosque.
"They were all built between the 12th and the 16th centuries."
And inside the complex are courtyards with perfect examples of mosaics and other decorative artwork.
360° videos reveal secrets of Uzbek treasures https://t.co/RppNfYE842

— Seamus Kearney (@seamuskearney_) February 21, 2017