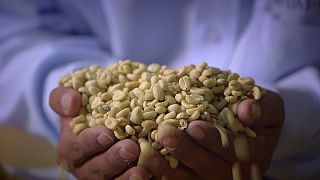 Jorge Minaya Huamàn is one of the nearly 300 partners of the coffee cooperative Huadquiña, in the Andes of Southern Peru, not far from Machu Picchu.
Chuncho cocoa tends to have different flavours. It can taste like bananas or roses, and can even resemble mango.
From June to October he climbs the mountains to pick coffee beans. It's hard work just to get there, as his area extends from 1,300 to 2,400 meters.
The weekly harvest happens with mutual help from family members or neighbours. It's teamwork.
Jorge Minaya Huamàn, Huadquiña Cooperative:
"The technical department trains us how to be more efficient while harvesting, and also shows us how to select seeds, set up nurseries, organise the fields and how to manage and fertilize them."
The cooperative educates farmers about their plantations and encourages them to invest part of the fair trade benefit into sustainable practices, like selective picking and the replacement of old plants.
As a result, coffee quality has improved.
Thanks to premium from EqualExchangeUK</a> <a href="https://twitter.com/hashtag/womenscoffee?src=hash">#womenscoffee</a> Doña Nola can dry coffee despite unreliable rains <a href="https://twitter.com/hashtag/climatechange?src=hash">#climatechange</a> <a href="https://twitter.com/hashtag/Peru?src=hash">#Peru</a> <a href="https://twitter.com/hashtag/UNICAFEC?src=hash">#UNICAFEC</a> <a href="https://t.co/IpxJirCyHK">pic.twitter.com/IpxJirCyHK</a></p>&mdash; Twin (twinfairtrade) 26 septembre 2016
Fair trade
Coffee production came to Peru in the 18th Century. The typical variety represents 60 percent of the country's exports.
There are over 110,000 coffee growers in Peru.
Around 15–25% of Peru's coffee producers belong to cooperative organizations linked with international Fair Trade networks.
Peru is the third largest grower of cacao in Latin America.
The co-op buys either pergamino beans or coffee cherries. Pergamino consists of dried coffee seeds in their shells.
The cherries are immediately processed by removing the pulp, then the beans are left to ferment. Finally, the seeds are washed and dried.
Hebert Quispe Palomino, manager, Huadquiña Cooperative: "The product we obtain is stable in quality. We try to maintain constant quality levels, without lows. Concerning prices, we advance the farmer 80% and when you sell, the difference can be higher than 20%, it can go to 50 or 60%."
Nearly 80% of our production goes to the UK. We sell the rest to the US, Canada and parts of Europe."
The cooperative has worked since its foundation over fifty years ago to widen markets to smaller producers. Quality improvements have led to increased demand for beans with exclusive characteristics.
Benjamin Schweitzer is here to choose specialty coffees for an import-export business.
Benjamin Schweitzer, coffee buyer: "The variety that is found in this region, Typica, is one of the oldest strains of coffee, but it's hard to find because it's not resistant to some of the plagues that are affecting coffee production."
Typica variety is floral and has a creamy body. Evaluation is based on aroma, acidity and sweetness, all the different aspects that make a complete cup of coffee.
Benjamin Schweitzer: "We decide what gets sold as specialty coffee, which will pay a premium to the producers, and then just what will be sold as normal fair trade coffee, [of] which the producer is still receiving a guaranteed minimum price based on their certification."
We leave the coffee plantations of Santa Teresa and follow the Urubamba River up narrow and windy Andean roads to reach the town of Quillabamba where we meet Edwin Cuentas Chacon, who takes us around the organic cocoa plantations of the Urubamba Cooperative.
Edwin Cuentas Chacon, head of organic cocoa programme, Urubamba Cooperative: "We have two different cocoa varieties, 'Chuncho' and 'Hybrid'. Hybrid is good for quantity, but for quality the best is Chuncho.
Edwin Cuentas Chacon: "Chuncho cocoa tends to have different flavours. It can taste like bananas or roses, and can even resemble mango."
Chuncho can be difficult to harvest because the plants are higher.
The cooperative has 141 associates in the organic cocoa programme. They are all small producers, with plots ranging from around half a hectare to five. Beans are usually processed, selected and stocked at the co-op.
Edwin Cuentas Chacon: "Our goal is to boost Chuncho production via incentives and projects."
Peru ranks eighth in the world amongst cocoa producing countries, and third in the Americas.
Monica Pinna, euronews: "After meeting with coffee and cocoa producers, our trip to Peru ends here in Quillabamba."