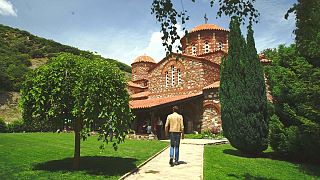 In this edition of Macedonian Adventures, we travel to the Vodocha monastery.
Dating back to the first centuries of Christianity, the complex took its present shape in the Middle Ages.
A cultural monument, it remains a functioning monastery where nuns still live.
"An earthquake brought down the arches of this cathedral in 1931; half a century later they were restored with historical accuracy," reported euronews' Denis Loctier.
Father Grigorij, Priest, Vodocha and Veljusa monasteries, explained: "The restoration was done in the same authentic way in which the church was built, using only stones and horizontal bricks – in the Byzantium style typical for older churches."
Rising near eastern Macedonian city of Strumica, the Vodocha and Veljusa monasteries welcome pilgrims and all admirers of religious art and history.