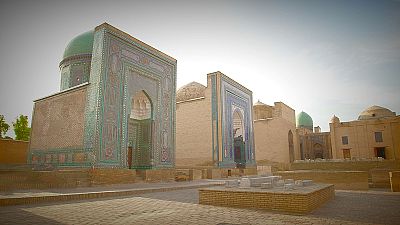 Our Postcard from Uzbekistan this week comes from one of the most unique monuments in Samarkand.
The Shakhi Zinda memorial complex is a stunning collection of ancient tombs.
The name translates as "the living king" and refers to the legend that a cousin of the Prophet Muhammed was buried here.
Euronews' Seamus Kearney reported: "The architecture here is unique in the way that the various mosques and mausoleums of royals and nobles were built on different levels, added one by one over almost nine centuries."
Key facts about Uzbekistan:
It's in Central Asia, with neighbours including Kazakhstan, Turkmenistan, Kyrgyzstan & Tajikistan
With a population of more than 30 million, the ex-Soviet republic became independent in 1991
The total land area is 425,400 km2, with plains covering about four fifths of the territory
The average winter temperature is -6 degrees celsius and in summer it rises above 32
Almost 80 percent of the population is Uzbek and the main religion is Muslim (88 percent)
Guide Abror Rahimov told Postcards: "There are 11 mausoleums from the 14th and 15th centuries and three mosques, one of which dates back to the 11th century.
"In total there are more than 40 Islamic architectural monuments in Shakhi Zinda."
This is also where the late Uzbek President Islam Karimov was laid to rest at the beginning of September.
The site is revered as sacred by local people, but it has also become an important religious site for pilgrims who come from far and wide.
360° views of the wonders of Samarkand
Shakhi Zinda, Samarkand 2012. Teringin nak pegi lagi … jom kita backpack sini backpackingMY</a> <a href="https://twitter.com/hashtag/SharmOnEarth?src=hash">#SharmOnEarth</a> <a href="https://t.co/9wfwtzpyYu">pic.twitter.com/9wfwtzpyYu</a></p>&mdash; Shamsul bahrine (Sharmsoul) July 31, 2016
Shakhi-Zinda http://t.co/t56ANTM6ISpic.twitter.com/vddUJdshU0

— Stephen Chow (@chowcollection) April 28, 2014
Коротко о Самарканде:народ,здесь невероятно КРАСИВО!За 2дня почти побывала везде #Samarkand#ShakhiZinda#HazratiHizrpic.twitter.com/U3QuRlBcDx

— MK (@anidamka) April 21, 2014