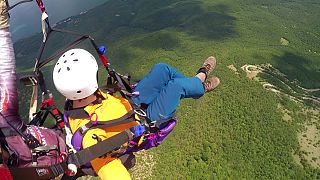 In this episode of Macedonian Adventures we take to the skies from a mountainside above Prespa Lake in the country's south.
Denis Loctier, euronews: "A paraglider is a lightweight fabric wing that can lift its pilot a few kilometers above the ground. No fear of heights, I hope?"
This largely mountainous republic is well known with competition pilots. Some of its sites hold European free-flight championships.
But it doesn't take an athlete to soar among the clouds: almost anyone can fly tandem with an instructor.
Ljubomir Netkov, paragliding instructor, Zero Gravity Tandem Paragliding: "The diversity of Macedonian terrain, with its variety of individual mountains and valleys, is excellent for paragliding. This is what attracts athletes from all over Europe and the world."