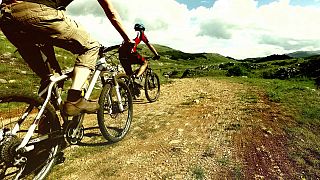 Denis Loctier, euronews: "No matter your mountain biking skills, the south Macedonian national park of Galičica welcomes sportspeople of all levels."
More than a thousand off-road and dirt tracks make this landlocked country a great place to practice this all-terrain sport.
Galičica National Park covers a mountainside between two large lakes, features diverse types of territory and is home to various regional species of plants and animals.
Dean Ivanovski, mountain guide, Outdoor Adventures: "What brings mountain bikers here is the accessibility of the terrain, the scenic trails, the beautiful sights of Ohrid Lake, as well as all the wonderful landscapes – and the fresh air!"
The peaks of Galičica rise to more than 2000m above sea level, offering challenging ascents, high-speed downhills and magnificent views to those who make it to the top.