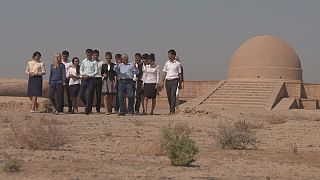 At the southern-most tip of Uzbekistan, Termez has a long and rich history. It was once at the heart of Buddhism in Central Asia and also one of the stops on the ancient Silk Road.
Importantly it is home to the Fayaz Tepa temple a marvel of its Buddhist past. This monastery dates back more than 2,000 years to the Kushan dynasty. It was one of the most multicultural empires of its time and the region played a key role in the spread of the Buddhist religion.
Many wall paintings and sculptures depicting Buddha remain well preserved.
Archaeologist Bahodir Turunov explained how the works were created:
"The wall was covered with a layer of straw and then painted over from top to bottom both inside and out, the stupa was also covered with wall paintings."
As well as the stupa – the central dome – the monastery also contained a temple, a cloister and accommodation for pilgrims including dining rooms and kitchens – and unique architecture.
Besides Buddhism, Zoroastrianism and Greek cultures developped here prior to the arrival of Islam.
Treasure
The city looks back on 2,500 years of rich history. It is located on the border with Afghanistan, on the banks of the Amu Darya river.
Some of the most stunning discoveries of the city's excavation sites are displayed in the Termez Archaeological Museum, one of the finest in Central Asia. It's a treasure trove: thousands of sculptures, terracotta, ceramics, wall paintings and precious stones reflect the region's rich heritage.
Dalverzintepa is an ancient settlement in the region of Termez that was founded in the third century BC. It was once a wealthy city with spacious houses and terraces. In one of these houses Bahodir Turgunov and his team found something that changed their lives forever, as he explains:
"We have taken out the stones and we went further and discovered a ceramic vessel and inside we found necklaces, earrings, bracelets, gold bars and all kinds of small objects. I had never even touched gold before in all my life."
In total he found 36 kilogrammes of gold which belonged to a jeweler who was hiding his precious fortune. Today it's been safely stored in the national bank.
Bahador said: "I realized it was a really big treasure that we had found and it is the first time a discovery of this size has been made in Central Asia."
The archaeologist and his team are still searching for new treasures to this day – keys to understanding the past. Bahodir Turgonov is convinced there are still many of the Kushan kings' secrets waiting to be uncovered.