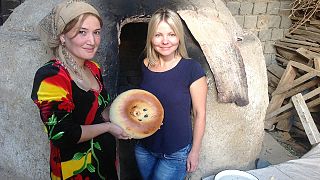 Traveling to Samarkand is like taking a time machine. While making my report, I felt myself somewhere in the past, or inside a fairy-tale about Scheherazade.
Our journey started in the very heart of this city, the Registan square. The name of this square means "the sandy place" because in ancient times this square used to be covered by sand. There are three madrasahs – the Ulugh Beg Madrasah (1417–1420), the Tilya-Kori Madrasah (1646–1660) and the Sher-Dor Madrasah (1619–1636). Their walls can be read like books; for example, on the entrance of the oldest one, the madrasah of Ulugh Beg, one can read: ''search for knowledge even to China.'' China was considered the end of the world, so this inscription encouraged students to search for knowledge everywhere on the planet. Nowadays, there is precious knowledge preserved here as many generations of renovators devote their lives to keep those madrasas as beautiful as they are.
Another wonder which deserves a separate story is the native village of Great Timur, Shakrisabs. Except for the ruins of Timur's summer residence, there is much more to see. It takes tourists less than an hour to get to this wonderful city from Samarkand. The name of this city means Green Town. It saw the legions of Alexander the Great and the hordes of Genghis Khan. I advise to take a look at the Jekhangir Mausoleum and Gumbeyi Seiidan Mausoleum. The local market, such as the Siab market in Samarkand, exists since the times of Great Timur. By the way, Timur is considered to be the patron of Samarkand. Young brides and grooms come here and place flowers at the steps of his statues.
There is another interesting wedding tradition in Uzbekistan. In my report, you can notice beautiful young women looking like princesses in their traditional colourful clothes. One was being photographed at the Registan square, while another one was buying sweets at the Siab market. They do not dress like this always, but only in the weeks after the marriage. According to tradition, a young wife has 40 traditional dresses which she wears during the first days of her married life; so there is a dress for 40 days. Later in Bukhara, I took a picture with one young wife, but Bukhara – is another story, as thrilling as Samarkand. If you wish to know it, follow Euronews and our program 'Uzbek life.'