From Moscow to the eastern borders of China, the world's longest railway line – the Trans-Siberian, stretches for more than 9,000 kilometres; a truly great railway journey – in this edition of Russian Life.
At midnight every other day, a "Rossiya" train leaves Moscow for a week-long trip to Vladivostok. It is an extraordinary trip and many come from far and wide to do it.
"This is the longest train journey that one can make," said English tourist Robert Bird. "And you just have to do it, because it's there! I'm happy sitting in the train, looking at the scenery, and going to places that I've never been to before. I just find it so fascinating!"
It is a home away from home for hundreds of passengers who sleep, eat, enjoy the limited comfort and try to have a good time during their days on board the train.
Irina Savina, one of the train's conductors said:
"Very few passengers do the whole journey from Moscow to Vladivostok in a single trip, and those who do should be prepared mentally and physically – a whole week on a train might not be easy. But we provide everything necessary to make it an enjoyable travel."
In the first and second classes, there are individual compartments that accommodate two and four passengers respectively.
This is a popular mode of transport for tourists and businessmen alike who shuttle between Russia's major cities on trains rather than planes.
There are dozens of stations between Moscow and Vladivostok allowing passengers to stretch their legs for a few minutes and stock up on food and drinks.
Factfile: The Trans-Siberian
A first class ticket from Moscow to Vladivostok on a Rossiya train costs around 1000 euros, including daily meal service. The third class is 315 euros
First class passengers can order their meals to be delivered in their compartments or have it at a dining car
There's a hot shower in one of the train carriages. It costs 200 roubles (5 euros)
Train personnel is helpful and attentive but doesn't always speak foreign languages
All train schedules in Russia use Moscow time; the time difference between Moscow and Vladivostok is seven hours
Many tourists prefer to visit some of the most interesting cities along the track before continuing their Trans-Siberian journey.
Some of the most passionate travellers ride in the cheaper third class carriages: known as "platzkart".
Here people from many different backgrounds mix together in an open carriage throughout their odyssey.
Inna Kryazhevskih who was travelling to Kirov said: "A train journey is a good time to reflect on something, to think of the things we never have time for in our daily lives".
Dasha Kryazhevskih who was going the same way added: "Sometimes you sleep a lot, sometimes you read, or do something creative – we made some toys and beaded jewellery while travelling on this train."
Vladimir Kosinov, the Train Master, said:
"You can learn a lot about Russia by crossing it from Moscow to Vladivostok on this train. If you observe other passengers, especially Russians, if you get to know them then you'll understand many things about our way of life and the "mysterious Russian soul".
Lots of people decide to stop in the historic Siberian city of Yekaterinburg and then a few days further down the line in Irkutsk where they can see Baikal, the world's deepest lake.
From there they can head south to Mongolia and China or continue their eastward journey to Vladivostok, Russia's main port city on the Pacific Ocean.
Whatever the destination, for those with a spirit for adventure, the Trans-Siberian trip is a Russian speciality not to miss.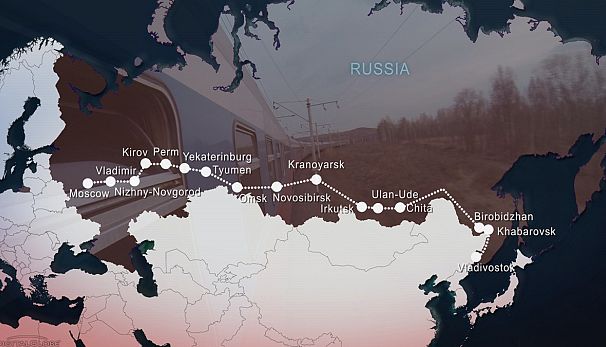 You might also like
Sorry, this content is not available in your country