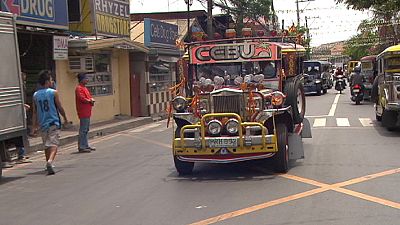 It seems that almost every day a new skyscraper is sprouting up. With its population of nearly 12 million, Manila is among the top 10 biggest cities in the world. It is one of the fastest growing metropolis on the planet, with ultra-modern business centres springing up on every street corner.
"Manila's skyline is varied, it's a multifaceted skyline. Manila is a metropolis, which originates at the place where the Pasig river goes into Manila bay. That's where you have the old city. Manila grew from there. It's a radiant city," says architect Dominic Galicia.
A growing number of people are moving to the capital from rural areas to try their luck. This colourful and bustling city has a very young population – the average age is 23.
A new generation of creative minds is leaving its mark on the cityscape. Among them is fashion designer Oliver Tolentino. He is always on the move but returns frequently to Manila, seeking fresh inspiration. He is a strong believer in eco-couture: the materials he uses, such as pineapple fiber and water-lily leaves, all come from the Philippines.
"I grew up in the region with all the tropical flowers, the beautiful scenery, the beautiful beaches. I show a very colourful collection where you can see the tradition, the heritage of being a Filipino," says the designer.
Oliver Tolentino sees himself as an ambassador of eco-friendly fashion made in the Philippines and has many fans in Hollywood.
"I consider myself as part of a new generation and I really want to serve as an inspiration for the future designers here, in the Philippines," he told us.
Like him, many Filipinos take pride in promoting their country abroad.
Manila has also caught the interest of a growing number of foreign investors. The Philippines now ranks as one of the world's most promising newly-industrialised countries with strong performances in the electronics and service sectors. But it is not just about numbers.
Factfile: Republic of the Philippines
General
Population (Asian Development Bank, 2012): 95.77 million
Capital: Manila
Area: 300,000 sq km
Head of state: President: Benigno "Noynoy" Aquino

III

Major languages: Filipino, English
Major ethnic groups (

NCIP

): Cordillera People or Igorot, Caraballo Tribes, Agta/Aeta or Negrito, the Mangyan of Mindoro, the Palawan hilltribes, Mindanao Lumad
Major religions: Catholic, Muslim
Economy
GDP

(2011, World Bank):

USD

224.8 billion

GDP

growth (

ADB

, 2013-14 projection): 6.0% (2013), 5.9% (2014)

GDP

per capita (2011):

USD

2,370
Unemployment rate (

ADB

, 2012): 7.0%
Income categorisation (World Bank): Lower middle income country
Doing Business 2013: Rank 138
"Foreign investors, when they take a decision to invest, look at a number of things: how hospitable is the environment, for example. Having lived in the Philippines for more than 15 years, I can say that this is a very hospitable country. Secondly, the human resources in the Philippines: companies will have access to a large pool of excellent English-speaking workers. That's another big advantage of this country," said Asian Development Bank country director, Neeraj K Jain.
Its rich history has provided the country with a unique cultural heritage. For 300 years, the Philippines belonged to the Spanish crown – many vestiges are still visible in the old city or Intramuros.
After the Spanish reign, a new country took over: the United States. After World War II, the Americans left behind their military jeeps. Locals found a way of recycling them, by stripping them down and altering them in order to accommodate more passengers. Metal roofs and vibrant colours were added, and the jeepney was born.
To this day, it remains the most popular and the cheapest means of transport in the Philippines.
Ed Sarao has a special relationship to the Jeepney. His father founded the legendary Sarao Motors brand. Up to this day, his vehicles are handmade, with much attention to detail.
"No two Jeepneys are alike if you look at the streets of Manila. It's like a tailor-made suit. You can ask for anything you want to be thrown in. It's public transportation, it's also a pop culture icon for Filipinos," explained Ed Sarao, co-owner of Sarao Motors Inc.
In the next edition of "Philippine Life", we leave the city behind to travel to the country's most famous island of Boracay. This popular holiday destination has become a mecca for wind and kite surfers. Among the events we will be covering – the annual Dragon Boat Festival.