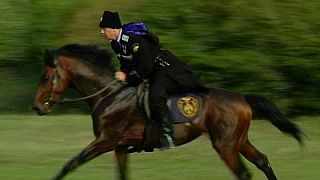 In the new season of Russian Life, we look at the most amazing aspects of the world's largest country. We begin our journey in the south of European Russia, where today – as in the past – Russian Cossacks live.
A Cossack detachment patrols the streets of Pyatigorsk, a spa resort town which is famous for its mineral water spring. In many parts of Russia, Cossack ethnic and cultural identity is growing stronger.
Vladimir Ponomaryov, the Pyatigorsk Cossacks' commander, known as an Ataman, explained: "In the words of our great novelist Leo Tolstoy, Cossacks are the ones who created Russia. They have always served as an outpost, expanding and maintaining Russia's borders. First and foremost, they are warriors. People cheer when they see Cossacks: 'Look, Cossacks are riding, everything's all right'."
The Cossack fact file
The emergence of Cossacks dates back to the 14th and 15th centuries.
Cossack settlements in the Russian Empire served as buffer zones on her borders, enjoying vast social autonomy in return.
During the Russian Civil War, Cossack regions became centres for the Anti-Bolshevik White movement.
In Russia's 2010 population census, Cossacks were recognized as an ethnicity.
Cossack leaders estimate the number of ethnic Cossacks as between 2.5 and 4 million.
For many years under Communist rule, Cossacks were denied recognition. But their culture survived through traditional songs and dances which are known all over the world.
After coming to power, the Bolsheviks introduced a campaign of mass repression, to eradicate the Cossacks, who they saw as a reactionary force opposing people's fight for liberty.
Nikolay Okhonko, the director of the Stavropol Museum of Local Lore, told euronews: "Some Cossacks were exiled to Siberia, the most rebellious were shot, and some remained and maintained the traditions."
With ideological barriers lifted, people are now tracing their ancestry back to pre-revolutionary Cossacks vowed to restore their grandfathers' ways of life. As part of that effort a century-old farmstead has been turned into a living museum and a major tourist attraction.
A new generation of Cossacks is being educated in the region's state schools, many of which have special classes for children whose parents want them to live by Cossack values. The curriculum includes Cossack history, and basic military training, as well as compulsory church attendance.
Archpriest Pavel Ageyev, the Prior of St Nicholas Church, gave some insight: "The Cossacks' motto is 'For Faith, Tsar and Fatherland'. Notice that faith is placed first. It is the core of a man: without faith it is impossible to do anything. So Cossacks had faith, and the first thing they did when coming to a new place – they built a temple before building their homes."
As the Slavic warrior caste seeks to reclaim its place in Russian society, Cossacks see themselves as a safeguard in the turbulent North Caucasus region.