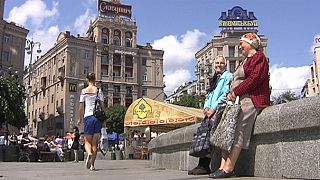 This year Kiev celebrates 20 years of post-Soviet history. The country's capital is an indicator of how Ukraine, which has always been torn between East and West, has changed and is evolving.
Kiev is a city with a real drive for modernisation. Twenty years after independence it is a mixture of old and new. The imperial look of its palaces, reflecting its Soviet past, and its historical buildings coexist with modern developments, to the point where UNESCO has threatened to take the city's historic sites off the World Heritage List.
The needs of the people have changed, along with what they can do: "Up until the late 1980s almost all buildings in this area were shared apartments. During Perestroika, when people got the opportunity to buy homes, the accommodation in this area changed. People started buying the flats and several of them to create new luxury homes," explained architect Georgy Duchovichny.
That is how an area in central Kiev became one of the most up-market neighbourhoods in the capital. Luxury boutiques have started to appear in the last few years as well as many international chains.
According to Igor Burakovsky, head of the Ukrainian Institute of Economic Studies and Political Consulting, Kiev encapsulates the history of Ukrainian economic development.
"The first consumer credits given by the banks originally or historically appeared in the city of Kiev, so it was relatively easy to get some money, to invest that in, for example housing, and it gave a certain boost to the development of the city as such."
Change has also embraced culture. The Pinchuk Art Centre is an illustration of how commerce, politics and culture overlap. Kiev's most futuristic Art Centre, which does not charge an entrance fee, is financed by Victor Pinchuk, a billionaire defined by foreign media as a "new generation" philanthropic oligarch.
"Change is not something that we expect, to happen every day, every moment of our lives. Everybody knows that if you want to see a country in 20 years time you need to look at those who are 20-years-old now, and this new generation of Ukrainians, who are free from those Soviet stereotypes, they are completely different," said Dennis Kazavan of the Pinchuk Art Centre.
Euronews Monica Pinna reports from Kiev saying: "Kiev is a city in full evolution. With its parks, its green spaces, its galleries, it is the modern face of a country that still has many challenges ahead."
Kiev is the most expensive city in a country that has been hit deeply by the 2008 global crisis. Today there are signs of economic recovery, which are more visible in the capital than in the rest of the country that has far lower living standards. The economy is starting to modernise, though still linked to the past.
"Unfortunately Ukrainian economic growth until now is still based upon the heritage of the former Soviet Union. This heritage hits back on the performance of Ukrainian society as well," said Igor Burakovsky.
Kiev shows Ukraine's hunger for culture, knowledge and development focused on building a new environment for future generations.