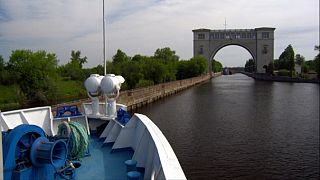 The Volga is Europe's longest river. It is even longer than the road from Moscow to Madrid. And in Russia, for centuries it has been known as Mother Volga. It is popular for summer holidays and attracts tourists from all over the world. There is nothing to beat messing about on the Volga – and making a few calls of port of course.
People love the beauty of the river, its grandeur and majesty, its towns and the many restored historical monuments. Every town is different, each one is unique – you will not find anything like it anywhere else. Perhaps that explains people's interest.
For Ludmila and her husband, this is their 11th voyage along the Volga. She explained: "When you go on deck in the evening, you can feel the fresh scent of the leaves. It is impossible to describe it in words, you just have to feel it!"
In Uglich, during the 16th Century, Dimitri, the last scion of the ruling dynasty, was mysteriously murdered. That death precipitated a political crisis called The Time of Troubles, and has attracted tourists to the town ever since. These days the city produces hydro-electricity.
Natalia Falina, a guide at the Uglich Hydropower Engineering Museum, said: "It was only after the construction of the hydro-electric power plant that the Volga became what we see today. It used to dry up so much that you could walk across it, especially where it twists through the centre of Uglich. But since the water level rose and navigation became possible, the town has attracted lots of tourists."
Factfile the Volga:



The Volga is 3692 km long – it's the largest river in Europe in terms of length, discharge, and watershed.


Out of the twenty largest cities in Russia, eleven are situated in the Volga's drainage basin, including the capital Moscow.


Big vessels can travel from the Caspian Sea to the upstream end of the river.


The river's strategic significance caused the city of Volgograd, formerly Stalingrad, to witness the bloodiest battle in human history in 1942-1943


Tourism has created jobs and pays for the restoration of the town's many historical sites. The Volga also supplies water to urban areas and farmlands. Some of the largest reservoirs in the world can be found along the river.
The historical centre of Yaroslavl is classed as a World Heritage Site and is a prosperous centre in this region. In 2018 the city will host some matches played during the FIFA World Cup.
Larisa Apalkova, a tour guide from Yaroslavl, said: "The Volga is Russia's high street. It has been a defence line, it has fed people and given them jobs. The Volga has inspired Russians to paint and write great literature. It's been at the centre of Russian life for centuries. All Russians, wherever they live, will visit the Volga at least once in their lives."
We visited a sailing school which is just one example of the sporting opportunities on the Volga. Sergei Terpigorev, the director of the Yaroslavl Sailing School, said: "There's scuba diving and fishing, surfing and yachting – all kinds of activities for people who love the water. Once you get a taste for it, you're addicted. As we say in the sailing world, if you get the water in your blood – it's for life."