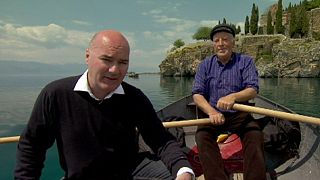 Seamus Kearney spent a week in Skopje and at Lake Ohrid
Skopje's most famous daughter
She is revered around the world, and in the minds of many she is closely associated with the Indian city of Calcutta (Kolkata). But Mother Teresa was in fact born in Skopje, where she is celebrated as the city's most famous daughter. It's amazing the things you learn when you travel to new countries!
Born into an Albanian family on August 26, 1910, Mother Teresa's original name was Agnes Gonxha Bojaxhiu. Skopje was a place she often talked about later in her life, and she returned there a couple of times after becoming famous around the world for her missionary and humanitarian work.
The Mother Teresa Memorial House was opened in Skopje's Macedonia Street in January 2009 in a project funded by the government. This was where the Sacred Heart of Jesus Roman Catholic church once stood, where Agnes Bojaxhiu was baptised. In this museum you can find the blue and white sari worn by the elderly Nobel Peace Prize winner, as well as her original birth certificate, her handwritten prayer book and the rosary beads she used.
The world-renowned nun returned to Skopje at least four times in her adult life, the last time in 1986. She died in September 1997, but her fans in the city where she was born have done all they can to make sure that her legacy is not forgotten. Last year Skopje held numerous events, including a special session of parliament, to mark the 100th anniversary of Mother Teresa's birth. A memorial plaque has also been erected where her family home once stood and there is a tall statue of her beside the memorial house.
---
The way to someone's heart
If it's true that the way to someone's heart is through their stomach, then Macedonians must have an untold number of people swooning over them and their nation. Whenever I travel to a new country I find it important to sit down with locals and eat as much of the national cuisine as I can, to try to really get a feel for the place, its people, its rhythm, its way of life – I don't eat meat, however, so I'm hindered slightly when it comes to many destinations. I can tell you, though, that the Macedonian dishes I ate had me absolutely swooning.
A vegetarian will have no problem here. This is a country with a warm climate, so fruit and vegetables are incredibly tasty. There are always plenty of no-meat options in Macedonian cafés and restaurants, which is not always the case in the country where I'm living, France. One of my favourites in Skopje was the Macedonian national dish, Tavče Gravče, which is beans grilled in a superb onion and red pepper sauce. Meals always seem to include side plates of delicious concoctions of vegetables slightly fried or in sauce. Overeating is the only problem I encountered! Those eating meat also seemed satisfied.
But perhaps the biggest pleasure when it came to dining was my discovery of Macedonian wine. Wow! Why doesn't Macedonian wine have more of an international reputation? I rank it among the best I have drunk and this is certainly an industry with huge potential to take the world by storm. The country already has a thriving network of vineyards and I wouldn't be surprised if this becomes one of the top Macedonian sectors in the years ahead.
---
Skopje and her first impressions
When you first arrive in the Macedonian capital, Skopje, it is very difficult to tell what is old and what is new. A large bronze statue looks like it is hundreds of years old, but then we discover it has only recently been cast and put in place. The building with large pillars and covered in scaffolding near our hotel looked like an historic monument undergoing renovation, but in fact it is a brand new building half way through construction.
This is the first time I have seen a city rebuild in an old classical style, where architects and planners have decided against modern, glass structures or skyscrapers that one would normally expect in this new millennium. The result is certainly unique. I can understand that not everyone would like it – there has been much public debate about this expensive project – but for me the early results are stunning. The project is expected to be completed by 2014.
In a way the city is creating for itself the classical, architectural beauty found in other European centres. Dozens of public buildings and statues are being built, giving the centre an historic feel that one would expect in a city with such a rich history that goes back centuries. Skopje knows all about rebuilding: 80 per cent of the city was destroyed in an earthquake in 1963. People tell me they were grateful for the quick reconstruction that took place, but there was something missing: the city lost a lot of its beauty, its quaintness. They are hoping that will return with this new facelift of Skopje.