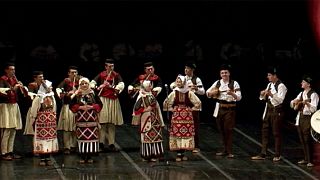 The soul of any country is its culture and heritage, and for Macedonians they are of vital importance.
In the last of our special three-part series we discover how this nation's cultural life is very much alive and well since gaining independence in 1991.
Macedonian opera singer Boris Trajanov has performed in the world's top music venues. He is one of the big names in the country's cultural landscape.
His interpretation of Scarpia in Puccini's Tosca is praised by some critics as one of the best of modern times.
Boris Trajanov said: "Macedonia is, nowadays, a very young country but with a great past, because Macedonia has existed for more than 2,500 years.
"We feel there's only one honourable obligation, with our culture, with our music, with our performing: to be an ambassador of our country."
The Macedonian Opera and Ballet's new centre has become one of the top venues in Skopje, with a wide range of performances attracting big crowds.
The country's rich tradition of music and song remains popular among the new and older generations.
Popular actor Dejan Lilic showed us back stage ahead of the opening night of a new play at the theatre he manages.
Dejan Lilic, who is well-known for playing Hamlet, said: "I'm happy that the culture is coming back.
"Maybe we forget the culture and how to live with it during these 20 or 30 years, because we have a lot of problems and issues. But now when we stop and take a breath the culture is coming back, in the theatre, in the concerts, in the literature."
There is no surprise that we found a full house on the opening night of Demons by Dostoevsky.
Macedonians are hoping that their culture and heritage, old and new, will help make the nation more visible on the world stage.
Other cultural projects are aimed at young people.
One man is attempting to boost the reading and appreciation of poems in schools.
The reading of love poems by renowned Macedonian poet Blaze Koneski captivates the audience in an inner-city literary café.
Poetry performer Ljupcho Todorovski-Upa said: "There are a lot of people who like poetry but, you know, the poetry and the reading is individual and it is not [something collective]. They [poetry readers] are afraid they are alone.
"I want to [make them feel] brave, that they are not alone. They belong to one big family."
Other outstanding examples of Macedonian culture and heritage can be found in the UNESCO world heritage site of Ohrid.
Among its claims to fame, some scholars say the southern town was one of the places where the Cyrillic alphabet was created.
When it comes to feeding the soul of a young nation undergoing major change, it is clear that Ohrid and its lake provide ample inspiration.
There is no doubt there are big challenges ahead for Macedonians and getting the right balance in all aspects of their lives is going to be crucial.