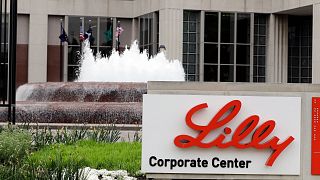 -
Copyright

AP Photo/Darron Cummings, File
US President Joe Biden is calling on other drugmakers to make insulin more affordable after Eli Lilly announced it would slash the prices of its most popular diabetes treatments.
Eli Lilly said it would cut the list prices for its most commonly prescribed forms of insulin, Humalog and Humulin, by 70 per cent by the end of this year.
List prices are what a drugmaker initially sets for a product and what people who have no insurance or plans with high deductibles are sometimes stuck paying.
The move comes after the US passed a law capping monthly insulin costs at $35 for people enrolled in Medicare public health insurance - those aged over 65 or those who have certain disabilities or illnesses.
"Last year, I signed a law to cap insulin at $35 [€33] for seniors and I called on pharma companies to bring prices down for everyone on their own. Today, Eli Lilly did that," Biden said on Wednesday.
"It's a big deal, and it's time for other manufacturers to follow".
'Crushed by drug costs'
People who have diabetes don't produce enough insulin, which is made by the pancreas and used by the body to convert food into energy.
People with Type 1 diabetes must take insulin treatments every day to survive. More than 8 million people in the United States with diabetes use insulin, according to the American Diabetes Association.
"For far too long, American families have been crushed by drug costs many times higher than what people in other countries are charged for the same prescriptions," Biden said.
"Insulin costs less than $10 [€9.44] to make, but Americans are sometimes forced to pay over $300 [€283] for it. It's flat wrong".
Biden has called for a national cap on insulin prices, but his signature Inflation Reduction Act currently does not protect patients with private insurance or without insurance from higher prices. He wants Congress to extend the $35 cap beyond Medicare.
A Lilly spokeswoman said the current list price for a 10 ml vial of the fast-acting, mealtime insulin Humalog is $274.70 (€259.18). That will fall to $66.40 (€62.65).
Likewise, she said the same amount of Humulin currently lists at $148.70 (€140.30). That will change to $44.61 (€42.09).
Lilly also said it would cut the price of its authorised generic version of Humalog to $25 (€23.59) a vial starting in May.
Lilly CEO David Ricks said his company was making these changes to address issues that affect the price patients ultimately pay for its insulins.
He noted that discounts Lilly offers from its list prices often don't reach patients through insurers or pharmacy benefit managers. High-deductible coverage can lead to big bills at the pharmacy counter, particularly at the start of the year when the deductibles renew.
"We know the current US health care system has gaps," he said. "This makes a tough disease like diabetes even harder to manage".
Ricks said that it will take time for insurers and the pharmacy system to implement its price cuts, so the drugmaker will immediately cap monthly out-of-pocket costs at $35 (€33) for people who are not covered by Medicare's prescription drug program.
The drugmaker said the cap applies to people with commercial coverage and at most retail pharmacies.
Lilly said people without insurance can find savings cards to receive insulin for the same amount at its InsulinAffordability.com website.