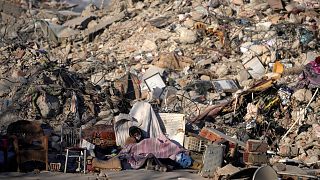 By Euronews with AP, Reuters
Rescuers are continuing to work on finding survivors following the earthquakes that devastated parts of Turkey and Syria on February 7.
Several people were still being pulled alive from the rubble over a week since the quake, which has so far killed more than 35,000 people.
With search teams from more than two dozen countries continuing to look for survivors, questions have been raised about how long people can actually survive in the rubble.
Experts say up to a week or more, though it depends on their injuries, how they are trapped and weather conditions.
Age, physical and mental condition are all critical.
"You see a lot of different scenarios where we've had some really miraculous saves and people have survived under horrible conditions," said Dr Christopher Colwell, an emergency medicine specialist at the University of California at San Francisco.
"They tend to be younger people and have been fortunate enough to find either a pocket in the rubble or some way to access needed elements like air and water," he added.
People with traumatic injuries, including crush injuries and limb amputations, face the most critical survival window, said Dr George Chiampas, an emergency medicine specialist at Northwestern University's Feinberg medical school.
Mental state can also affect survival. Chiampas notes people trapped next to bodies, who have no contact with other survivors or rescuers, may give up hope.
"The hope that someone is going to get to you, I think can provide you one, two or three more days," he said.
Miraculous rescues
Amid freezing temperatures, tens of thousands of local and foreign emergency personnel continue to look for victims from the earthquakes.
Wintry conditions in Syria and Turkey have hampered rescue efforts.
"If all of a sudden they start having rain, that rain in addition to cold weather can accelerate that hypothermia and can also lead to an accelerated death," Chiampas said.
Most rescues occur in the first 24 hours after a disaster. After that, survival chances drop as each day passes.
Experts say given temperatures that have fallen to -6C and the total collapse of so many buildings, the window for rescues is now nearly shut.
In the cold, the body shivers to keep warm - but that burns a lot of calories, meaning that people also deprived of food will die more quickly, said Dr Stephanie Lareau, a professor of emergency medicine at Virginia Tech.
Still, Chiampas says he would "never discourage anyone from having hope".
On Monday, a woman named was carried alive from the debris in Antakya, a video shared online by the mayor of Istanbul showed. Workers clapped as she was put in an ambulance.
Broadcaster Haberturk reported another woman and two children were rescued in Antakya, and CNN Turk reported a woman taken from the rubble in southern Gaziantep province.
Meanwhile, in Syria, authorities said a newborn whose mother gave birth while trapped under the rubble of their home was doing well.
The baby, Aya, was found hours after the quake, still connected by the umbilical cord to her mother, who was dead. She is now being breastfed by the wife of the director of the hospital where she is being treated.