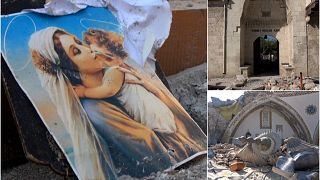 In the ancient Turkish city of Antakya, the oldest church in the world and the oldest mosque in the country were reduced to rubble after two massive earthquakes hit in just 8 hours.
The domes and walls of the 1st century Antioch Orthodox Church, known as Antakya Church, and the 7th century Habib-I Nejjar Mosque have almost completely collapsed.
"Unfortunately our church was destroyed after the earthquake. All its walls have fallen down and it is not in the condition for prayers, " says Sertac Paul Bozkurt, a member of the board of Antioch Orthodox Church. "Sadly Antakya is in great trouble. As the community here, of course, we are deeply sad, we are in great despair. We have big losses. We lost around 30-35 people from our church community." 
The oldest church in the world
Bozkurt says that the city will try to save the church but they need help from other communities.
"This is the oldest church, the first church in the world. This is the place where Christianity was born. That is why we call on Christians from all over the world to help us rebuild the Antakya Church. This will be a long process. But we will rebuild our church and we will bring our community together again in this church." Bozkurt says.
Muslims living in Antakya are also very upset. Habib-I Nejjar Mosque, Turkiye's oldest mosque, built in the 7th century, was also destroyed. Many local Muslims were killed by the earthquake.
"This mosque means so much to us. In every province, we believe that there is a holy person protecting us. This Habib-I Nejjar mosque is so valuable to us Muslims. On Qadr Night (the most holiest day of the year and Ramadan month) we used to come here for prayers. I was wondering how our mosque was as I heard it was in a bad condition." says Havva Pamukcu, a local Muslim worshipper.
"Every province is believed to have a holy person that keeps it safe by God's will and of course, Habib-I Nejjar was one of them. As you know we believe in holy people in all villages here. This place means so much to us, it is so valuable. It was very valuable for all of us, all Turks and Muslims. People used to first visit here before they go to a pilgrimage to Mecca.
Antakya: The horn of Turkiye was hit by huge earthquakes 3 times
On 6 February 2023, 7.7 and 7.6 magnitude earthquakes in the city of Kahramanmaras shook Turkiye deeply. The loss of life so far has exceeded the number of those who lost their lives in the tragic 1999 earthquake. A state of emergency was declared in the region for 3 months.
One of the cities most affected by the earthquake that hit 10 provinces was Antakya-Hatay.
Antakya is the city where two of the four earthquakes that have occurred throughout history have suffered the most loss of life. According to estimates, In 115 BC, a 7.5 magnitude earthquake killed 260,000 people.  In 525 AC, 250,000 people lost their lives in another earthquake. In 1872, an earthquake destroyed a third of Antakya.