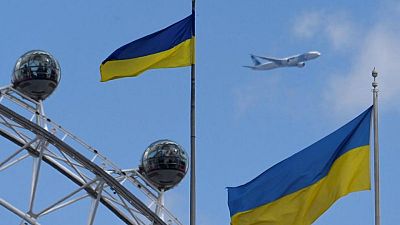 Copyright

Thomson Reuters 2022
-
KYIV -Ukraine expects a budget deficit of $38 billion next year that will be covered mainly by financing from the IMF, the United States and the European Union, Interfax news agency quoted Prime Minister Denys Shmyhal as saying on Wednesday.
War bonds and taxes will also help to cover the deficit, he said, adding that he hoped a new funding programme with the International Monetary Fund would be agreed for next year.
Shmyhal said he expected the United States to provide $18 billion and the EU and IMF to contribute $12 billion each towards helping to cover the deficit.
Additionally, Shmyhal said Ukraine would receive funding help for this year totalling 8 billion euros from the European Union, including 3 billion "in the form of a grant".
The prime minister also announced an agreement with the United States on the supply of 2 billion cubic metres of natural gas over the fourth quarter of 2022 and the first three months of 2023.
"We now see a successful passage of the winter season. We see sufficient reserves," Shmyhal was quoted as saying, adding that Ukraine's winter gas reserves were estimated at 15 bcm following the deal with the United States.
Ukraine's economy has been devastated by Russia's invasion, with the latest World Bank estimate in September pointing to a 30-35% contraction in gross domestic product (GDP) this year.
The country relies heavily on commodities exports, which have been hit hard by a drop in production due to fighting as well as limited export capacity.