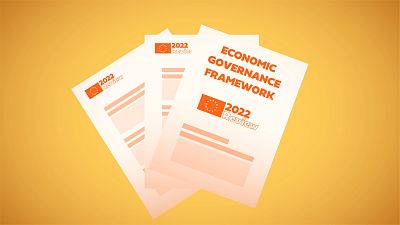 -
What are the EU's fiscal rules?
The EU's fiscal rules are part of the EU's Economic Governance Framework. The Framework guides Member States to achieve their economic and fiscal policy objectives, coordinate their economic policies, address macroeconomic imbalances, and ensure sound public finances.
The fiscal rules mean that governments must keep their annual fiscal deficit - that's the difference between government money coming in and what it spends - at no more than 3% of Gross Domestic Product (GDP). Overall government debt should be no more than 60% of GDP.
The deficit and debt limits go back to the Maastricht treaty and the beginning of the Eurozone in 1992. Then, in 1997, member states agreed to strengthen the monitoring and coordination of countries' fiscal policies to enforce these limits in the Stability and Growth Pact.
Over the years, the ins and outs of how the rules work have become overly complex. The existing fiscal rules have also failed to provide incentives for governments to prioritize key public spending and investment for the future.
During the pandemic, the EU activated the general escape clause of the Stability and Growth Pact. This meant that the debt and deficit rules were put on hold so that governments could spend more. The rules are due to return to normal in 2023.
What is the Economic Governance Review and why does it matter?
The European Commission has published a review of its Economic Governance Framework.
If you live in the EU, the review will determine your government's public spending in the years to come.
Since the rules were drawn up thirty years ago, the economic landscape has changed. There is increased public debt, a need for huge government investment to help Europe deal with the climate emergency and green goals as well as the digital transition, and now the economic impact of Russia's war in Ukraine.
The review is looking at how best to ensure that public finances remain sustainable, that governments have the fiscal resources to support economies during crises, prevent and correct macroeconomic imbalances (such as weak competitiveness and high private debt), simplify existing rules, and improve their transparency, ownership and enforcement.
The review was originally launched in February 2020, but was put on hold because of the pandemic. It was relaunched in October 2021.
What happens next?
The European Commission's goal is to find a consensus on how to move forward next year before the deficit rules are supposed to be reintroduced in January 2023.
The Commission also launched a public consultation on the future of the EU's fiscal rules, with trade unions, academics, central banks, national parliaments and is now in talks with EU finance ministers.
The commission is due to make recommendations later in 2022.