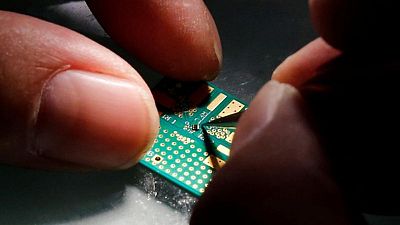 -
By Yadarisa Shabong
-British parts supplier Melrose is seeing up to 25% of monthly orders from automotive clients cancelled, it said on Tuesday, as the industry remains engulfed in a chip shortage that has forced carmakers to cut production.
Shares in FTSE 100 listed Melrose were down 3.2% at 0905 GMT, lagging the broader market.
Melrose, whose GKN unit supplies parts like driveline systems to Volkswagen and other major carmakers, said its businesses should still meet annual profit margin targets if car production this year catches up to last year's total.
"Tightened supply of semiconductors to the automotive industry are frustrating and difficult to plan for," Melrose Chief Executive Simon Peckham said in a statement.
"But whilst they affect current trading, they don't impact long-term value, particularly as cash is well controlled and debt reduced," he added.
Melrose also said it was focused on saving costs against a backdrop of rising inflation and all its businesses would take "whatever actions are necessary".
The company's profits plummeted last year as the pandemic wrought havoc on its aerospace division, which supplies components to aircraft including the Eurofighter Typhoon.
While the aerospace unit has begun to recover, Melrose's automotive division has been hurt by the chip crisis, which began during the pandemic due to unprecedented demand for chips used in digital products while car use waned.
The crisis has affected a range of industries globally and forced carmakers to cut production and temporarily shut down plants.
"While we expect fairly substantial cuts to near-term consensus estimates, we believe that the underlying progress at Melrose is strong," Stifel analyst Mark Davies Jones said in a note, referring to analyst forecasts.
Melrose said "in month cancellations" from automotive customers had climbed to 20%-25% of orders from a normal 1% per month during January-March.
Meanwhile, revenue from its aerospace division rose 16% in the September quarter, Melrose said.