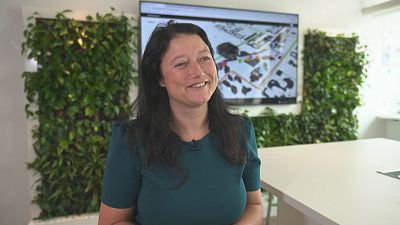 -
Amsterdam is currently piloting crowd monitoring technology in a bid to better manage the large numbers of people that often gather in the city. The smart tech is in operation in two locations - the Johan Cruyff Arena and a popular outdoor bathing area near the city centre called the Marineterrein. Cameras, sensors and an AI algorithm work out how many people are in the vicinity. In the Marineterrein, swimmers who don't want to be filmed can press a button to activate a shutter that closes the camera for 15 minutes. A smart phone app and onsite screens have also been developed to inform visitors how busy the areas are.
To find out more about the project known as Public Eye, Business Planet spoke to Rachel Tienkamp from the municipality of Amsterdam.
Why was the Public Eye Project such a priority for the city of Amsterdam? Why was it felt necessary to have this technology?
"For the city of Amsterdam it was really a priority to develop a technology around crowd management, and in this example Public Eye, because the city is growing, it's getting busier and we need to know where the hotspots are, where is it busy, and how busy is it, to exactly know what we need to do. So when we need to act and especially where we need to act."
Has the technology improved things? Has it worked?
"It has worked. Absolutely! It's really nice to see that if you know where the crowds are, you really know how to act, and also when not to act. When is it still comfortable enough, there's enough space. You don't have to act on everything. So it really helps you to be effective but also to be efficient with the means you have."
In terms of privacy and security, what have you done to make sure that this information cannot be misused?
"As the city of Amsterdam, we do a lot to make sure this data can't be misused. We keep ourselves to a very high standard. Like for instance with Public Eye, what we do is we don't store the images, we immediately redirect them or make a heat map almost of it and we only store the coordinates and the number of people. But no information about the people themselves, just the numbers, how many people are in a certain area and we find it very important to keep it safe, secure and privacy proof."
Amsterdam is at the forefront of the smart city revolution. How are you working with private enterprises and is this a growing area?
"The city of Amsterdam works a lot with smaller and bigger companies around this area, and the market is also really growing. We like to experiment, we like to find out what works for which solutions. So certain solutions we do on our own, but other solutions we work a lot with private companies, but also with knowledge institutes, where we develop together the technology and really find out with the company what works best."
To watch the full interview, click on the media player above.