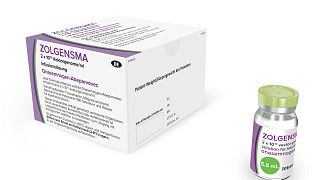 -
Copyright

Image suppled by Novartis Gene Therapies
A baby in England has been the first patient on the country's NHS to receive a potentially life-saving new gene therapy to treat spinal muscular atrophy (SMA).
Five-month-old Arthur Morgan was given a dose of the treatment known as Zolgensma at Evelina London Children's Hospital on May 25.
Arthur was born in December last year and diagnosed with SMA, a rare and debilitating neuromuscular disease that prevents muscle development, just a few weeks ago.
Babies born with SMA experience problems with movement, breathing, and swallowing.
The novel gene therapy treatment, produced by US pharma giant Novartis Gene Therapies, repairs affected genes inside the cells, making it easier to manage and potentially cure the disease.
But the wonder drug comes at a price.
Zolgensma is one of the world's most expensive drugs with a price tag per dose of €2.08 million. Fortunately for Arthur and his family, the NHS negotiated a non-disclosed discounted price for the drug, making it more accessible for patients suffering from SMA to receive the treatment.
Giving hope to parents
Arthur's father, 31-year old Reece Morgan was overjoyed at the news.
"When we found out that Arthur would get the treatment, and be the first patient, I just broke down," he said.
"It had been such a whirlwind few weeks, filled with lots of anxiety and adjustment, as we learnt about his condition and what it might mean for him and our family".
In a statement, Sir Simon Stevens, the chief executive of NHS England, also acknowledged the importance of using innovative therapies to treat diseases and disorders, such as in this case.
"It is fantastic news that this revolutionary treatment is now available for babies and children like Arthur on the NHS," he said.
'Series of smart deals'
Getting to this moment was a long road, Imran Kausar, Medical Director at Novartis Gene Therapies UK, told Euronews.
"These are hugely transformative therapies. To bring something in that only requires treatment once, that actually requires a lot of systems and processes to change," he said. 
"The NHS has tried its hardest to deal with the changes".
The agreement between Novartis and the NHS is part of a "series of smart deals" aimed to secure more cutting-edge treatments for the British people, according to the NHS website.
Novartis says that while the cost of the single-dose treatment sounds expensive, it isn't when you compare the alternative treatment for SMA which can include ongoing hospital admissions, ventilators and round-the-clock care.
"Our mindset is to think of things over a long period of time," Kausar added. 
"When you consider lifetime costs - actually gene therapies aren't expensive. The value we provide is more beneficial to healthcare systems".
Future of gene therapy
Whilst Kausar was reluctant to say if Zolgensma was a complete cure given the many variables, including when the infant is diagnosed and when the drug is administered, he does believe there is a curative future for gene therapy drugs "if the entire system is in sync".
"I do see us moving into a genomic era which is an era of medicine where we can harness our understanding of genetics and the impact on health in a much great way," he told Euronews.