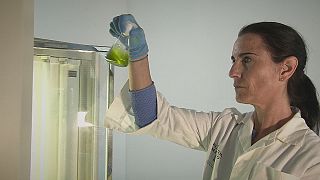 Microscopic green algae may be the scourge of swimming pools, but scientists and businesses have started cultivating them on a large scale to explore how they could in fact improve our lives in a sustainable way.
Microalgae contain a variety of valuable oils, proteins, antioxidants and vitamins, making them a highly productive natural resource that can be used in animal and human food, cosmetics and even plastics.
Futuris met with the scientists working on a European research project – fittingly named "MIRACLES" – that aims to make this dream economically viable.
1) Can we grow food from sea water and CO2? In next week's #Futuris I meet researchers in Netherlands, Spain and Portugal who do just that! pic.twitter.com/hNlOIVOLZa

— Denis Loctier (@loctier) 7 June 2017
Convenient and 'aesthetic'
The Wageningen university and research centre in the Netherlands, which specialises in healthy food and living environment, has been studying microalgae in transparent tubes filled with sea water for the past 20 years.
Good news: microalgae are very easy to work with. Sea water, carbon dioxide, basic nutrients and sunlight are all they need to live and multiply very rapidly.
In other words, microalgae have the potential to spawn a whole new kind of agriculture that does not rely on arable land or fresh water.
"We grow them in sea water, and you have very few agricultural crops that can grow in sea water. We can put these systems on land which is not fertile, we can go to the desert, we can use land that's not available for agriculture," says Hans Reith, MIRACLES project coordinator.
Microalgae are also "a nice-looking organism," says the project's exploitation officer, Philippe Willems.
"You have it in green, you have it in red, you can have it in yellow. It's aesthetic, and you can use it for that purpose," he said, showing two slabs of bioplastics, as well as a flower pot, made from microalgae. "Here, we tried to use the nutritional value that you have in algae… this bioplastic will degrade slowly in a water environment, and slowly release the nutrients," he explained.
3) Marine #microalgae contain proteins, oils, antioxidants and other valuable components. They can multiply with impressive speed pic.twitter.com/DLyNeB5Yk5

— Denis Loctier (@loctier) 7 June 2017
Scaling things up
The MIRACLES project builds upon the experience of its business partners, such as Fitoplancton Marino, a Spanish company that produces about two tons of dry microalgae matter each year. Its researchers have studied hundreds of microalgae species to select those with the best properties, and then grow them in massive computer-controlled photobioreactors.
"We control the temperature by cooling the tubes with water, we monitor the pH, the light, the oxygen quantity, since photosynthesis produces oxygen. These conditions are very harsh to survive in, but they're required to produce the bioactive ingredients we're interested in," says marine scientist Carlos Unamunzaga.
The goal is to keep innovating to make each step of the production chain – from cultivation to harvesting, processing and marketing – cheaper and more efficient.
#Microalgae: a great raw product for industry, we should learn to mass-produce it at low cost, miraclesproject</a>&#39;s Hans Reith told me at <a href="https://twitter.com/WUR">WURpic.twitter.com/dgzZob01Xb

— Denis Loctier (@loctier) 1 June 2017
New fish feeds
One promising use for microalgae is being experimented by the Portuguese company Sparos. It conducts R&D for the fast-growing aquaculture sector, which needs a sustainable supply of new fish feeds. Microalgae that contain proteins, fatty acids, vitamins, minerals and other valuable components are being tested in new feed recipes.
"It's important to study how the use of these microalgae in feeds benefits the fish – or not, though we mainly find beneficial effects – in terms of its immunology, its stress response, and its well-being," says Jorge Dias, a researcher in marine biology at Sparos.
Preliminary results show microalgae supplements have positive effects on young fish. Scientists continue to analyse how adult fish will live, look and eventually taste like – perhaps proving a good case for a business-and eco-friendly use of microalgae.
4) Many hope that #microalgae cultivation can become a good alternative to #agriculture — if we make production chain simpler and cheaper. pic.twitter.com/PDK3AsfvzZ

— Denis Loctier (@loctier) 7 June 2017
With Natalie Huet