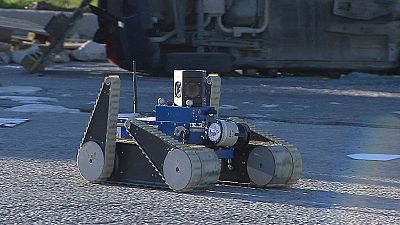 euronews, Anne Devineaux:
"This disaster scene is a simulation. We're in Italy in a fire brigade training center. Today, robots are being tested by researchers. Their mission: to help the rescuers."
After industrial accidents or natural disasters, the collection of information is crucial and robots can be precious allies to assist with this.
Ground robots and drones were developed within European research project TRADR. Remotely controlled, their mission is to search and explore the accident site. They can even create digital maps of the environment in three dimensions.
Droni e robot per mettere in sicurezza #Amatrice dopo il #terremoto. Il progetto #TRADRhttps://t.co/OZCHD2YBXApic.twitter.com/a0KgAfw169

— CheFuturo! (@chefuturo) September 11, 2016
Renaud Dubé, autonomous systems engineer, ETH Zurich:
"There is a laser sensor on the robots that measures the distance on a map, and in two dimensions. Rotating it makes it possible to make a truly three-dimensional map. Most of the time we use two to three robots, each of which is equipped with one of these sensors.The aim is to merge all the measurements together to have a global representation of the environment."
The goal is to better assess the risks and protect the lives of the rescuers. Experts in robotics work directly with the final users, firefighters.
Emmanuele Gisi, fireman, Vigili del Fuoco:
"This collection of information is very useful to us. This is the first phase of our intervention and is the one that allows us, while arriving at night or in the rain, to schedule the intervention operation and to ensure the safety of operators."
Robots can carry any sensor needed in a particular situation, such as exposure to gas or radioactivity. Some even have articulated arms to gather samples.
For researchers, the challenge is to optimise the interaction between machines and humans.
Ivana Kruijff-Korbayova, TRADR project coordinator, German Research Centre for Artificial Intelligence:
"Nowadays, robots are kind of everywhere. What they typically do not do is really tight collaboration with people and collaboration between different robots. So that's one of the big topics to look into ‒ what do robots need to do in order to be able to work in these human-robot teams."
Scientists were able to put their research to work during the devastating earthquake in Amatrice, central Italy, last August.
At the request of the firemen and the authorities, they managed to deploy their robots to assess the damage of two classified 14th- century churches, San Francesco and San Agostino.
Luigi Freda, computer engineer, Sapienza University of Rome:
"It was a difficult mission because the churches were in very bad condition, so much so the firefighters could not get in to make a detailed analysis.
"First, a robot came in to monitor the back of the church and then another robot entered at the front. We then managed to get a drone and we filmed the entire interior, which resulted in the 3D model."
Mission accomplished. High quality textured 3D images will assist in building reinforcement and heritage protection.
Ivana Kruijff-Korbayova:
"We have seen that such a deployment is possible. Even with the research tools that we have. My hope is that we'll actually be able to build a European robot-assisted disaster response readiness [team]."
Firefighters and scientists are working to deepen their collaboration to have a team set for rapid deployment, ready to face any type of disaster.