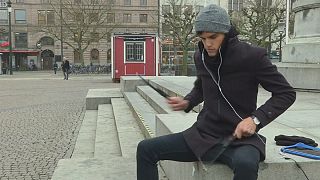 Philip Robertson is a keen drummer and like any musician knows the importance of practice.
But rather than heading for a rehearsal studio he sits down in the middle of Malmo in Sweden to make a racket.
He is the project leader of Freedrum, a virtual reality drum kit that can be carried in a back pocket.
Freedrum is a virtual, full-size drum kit that fits in your pocket. https://t.co/ZAcgY5S8pVfreedrumrocks</a> <a href="https://t.co/3mFob99d9M">pic.twitter.com/3mFob99d9M</a></p>&mdash; Rightside (rightside) February 9, 2017
All that's needed is an app on a tablet or smartphone and sensors strapped to the drummer's sticks and feet.
The sensors detect the drummer's movements and instantly trigger different drum sounds.
"Because the sensor understands the angle of where the drumsticks are pointing in, we're able to understand which drum is being hit at what point in time and also the intensity of the drum as well. So, I can play it quite soft, or I can play it quite hard," explained Philip Robertson.
The idea came to the inventor when his ten-year-old son wanted to learn drums.
The real challenge was accurately detecting a drummer's movements and correctly interpreting them into hits on a drum kit.
"We use a gyroscope and a gyroscope tracks the velocity, the angular velocity, how fast somebody turns, something turns. And it integrates this, so if you do it slightly wrong, you will end up like here instead or it might drift. So, then suddenly your drum kit is about here. So, we kind of have to recalibrate this automatically with some smart algorithms," explained the inventor August Bering.
That's translated into an electrical musical signal, called 'MIDI' (Musical Instrument Digital Interface) which is sent via Bluetooth to the connected app. The sensors can be used with any drumsticks.
In December last year, Freedrum successfully completed an online crowdfunding campaign on website Kickstarter and raised over 584,000 euros.
The initial difficulty say developers is for beginners to find the virtual drums which is unlike playing with a drum kit in front of you.