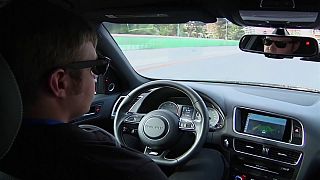 Driving without a hand on the steering wheel. Autonomous cars have been a constant in the tech pages of every journal for the past couple of years.
The reality of a fleet of these vehicles on our roads is just around the next corner. Analysts reckon you'll see them by 2020.
Autonomous vehicles are arriving to the streets sooner than expected, according to BMW</a> <a href="https://twitter.com/Mobileye">Mobileye & #Intel#CES2017https://t.co/tjnCCr5eEKpic.twitter.com/eioonVEgIg

— Intel UK (@IntelUK) January 6, 2017
That was the talk at the recent Consumer Electronics Show (CES) in Las Vegas.
"As we've been driving more and more, you realise what a benefit this is, first of all from a safety stand point, the vehicle sees everything around it, it's not distracted, it's not tired.
'And then as well from a convenience stand point. To me it's a technology that as it becomes more exposed, the interest and the adoption rates will actually accelerate, I think people will want it and demand it," Glen DeVos, Vice President of Services Business Unit, Delphi Electronics and Safety:
The self driving car is most likely it's believed to make its mark first in the service section like taxis.
The key to the domestic market for car makers will be to get consumers confidence. But specialists claim once car owners trust the safety standards of the vehicles they will focus on the on board technology.
"Definitely autonomy is a big story as it always is, but we're moving beyond demonstrations of cars just moving themselves, because that's kind of old hat at this point. So now we're seeing what's going to happen inside the car.
'We're seeing more demonstrations from BMW and Toyota rethinking what the interior's going to look like because now if you're not driving your car you can ultimately have more fun in your car, you can be more productive," explained Tim Stevens, Editor and Chief, Roadshow.
"What's new is the fact that they're trying to make it more into a product a few years down the road, while before it was really research and development effort and it was positioned that way. Now they're getting more serious about deployment," added Egil Juliussen, Research Director and Principal Analyst, IHS Automotive.
Research firm IHS Automotive predicts 21 million autonomous vehicles will be sold worldwide during the year 2035. The US market will see the earliest arrival of autonomous vehicles by 2020.
#Ford adds 700 new jobs at Flat Rock Assembly Plant in Mich. to produce high-tech electrified and autonomous vehicles. pic.twitter.com/UHeUTcX73T

— Ford Motor Company (@Ford) January 3, 2017