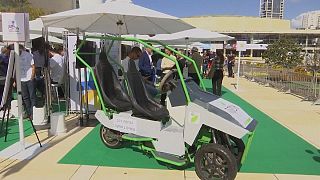 Air quality in cities is getting worse according to a recent UN report which says pollution leads to the deaths of more children every year than malaria and HIV/AIDS combined.
We try to serve as a catalyst for the world, to reduce the dependency on crude oil and in this process we would like to turn Israel into a centre of technology.

Chairman, Fuel Choices Initiative
Ahead of the UN Climate Change Conference in Marrakech, innovators and researchers gathered in Tel Aviv for the Fuel Choice Summit dedicated to some of the latest breakthroughs in alternative transport and energy.
From fuel-efficient cars to electric planes, this fourth edition drew thousands of people from 30 different countries to Tel Aviv.
"We try to serve as a catalyst for the world, to reduce the dependency on crude oil and in this process we would like to turn Israel into a centre of technology," said Eyal Rosner, Chairman of the Fuel Choices Initiative. "And in order to do that we have a lot of tools, we have a lot of partners from all around the world and this is where we bring everyone together and we try to learn, we try to meet and hopefully to expedite the whole process of getting away from oil, from fuel."
Autonomous and electrical vehicles were of course the stars of the event. Some of the latest research in fuel cell technology and hydrogen storage was on display. A team of researchers from Ariel University showed off its new invention. Alex Schechter, founder and head of the Centre for Hybrid Energy Systems at Ariel University, explained: "We have developed a system that can generate hydrogen for an electrical car.
"It is based on a chemical reaction that generates the hydrogen on demand, so that when you ignite your car the hydrogen starts to flow. When it flows you have electricity, it charges the battery and then you move on. But the uniqueness of this system is that the hydrogen is stored very densely, unlike a hydrogen gas tank that takes high pressure and low density energy. (…)
"The amount of energy that is stored in one kilo of that material is equivalent to 28 kilos of batteries in terms of energy density, so that instead of carrying a huge weight of batteries, you can take a little bit of salt, some water, react, and have the same amount of energy. But you have to use fuel cell coupled with it," said Schechter.
Also on display was a prototype for a fully electric aircraft, that requires no pilot and is able to carry a small number of passengers for distances of up to a thousand kilometres. Its makers hope it will be up and flying by the second half of 2018.
"We want to see a new type of transport and we think this transport will be an electric aircraft," said Eviation Ltd CEO, Omer Bar Yohay. "What you see behind me is a model of our full-scale aircraft. The full scale will take 6 people, fly 1.000 kilometres at a speed of over 400 kilometres per hour and it will do it at a price that is comparable to what you would pay for your train, or what you would pay for using your car."
A division of Israel's Prime Minister's Office, the Fuel Choices Administration, which organises the event, supports more than 200 research groups and has overseen an increase in the number of fuel-related startups from a few dozen six years ago to more than 500 today.
And as the global aircraft manufacturing grows, the ground service equipment manufacturers are also expanding, according to analysts at Global GSE.