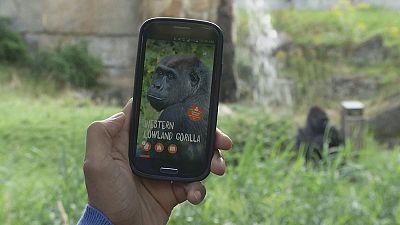 Visitors to Berlin zoo can now access a whole bunch of extra information on the animals thanks to an app powered by beacon technology.
When a visitor is near the gorilla enclosure, for example, the app will automatically bring up information about the great ape. The same goes for a number of other animals including leopards, elephants or penguins. There is also an alarm to inform guests about feeding times or walking tours.
"We have installed so-called beacons at selected animal enclosures," the zoo's Social Media Manager, Tobias Grüter, explains. "They are small transmitters that send a signal to the phone when the app is on. The app then comes up with information about the animals located nearby."
Home to more than 20,000 animals, Berlin Zoo is one of the biggest in Europe. Each year, it draws more than three million visitors from all over the world. Some have already tested the app.
"It is really helpful because it brings the information to your fingertips. Nowadays, technology and things have really progressed, a lot of people need to get the information at their fingertips rather than looking in a book," said one enthusiastic visitor.
Businesses have shown a growing interest in beacon technology over the years as a way to offer location-based advertising, directions and more to consumers.
According to Nicole Scott, founder and editor of Mobilegeeks.com, "beacon technology recognises that you are close and pushes you information. That's at its very, very, most basic core. This technology, in several different forms, has been around for quite a while. Tourism has been trying this out for almost 20 years. Now it is a lot more convenient because it just goes directly to your phone. You can find out literally anything about any subject."
Among other uses, it's hoped the new technology could soon help replace bulky and expensive printed material in museums and galleries, creating content-rich experiences for visitors.