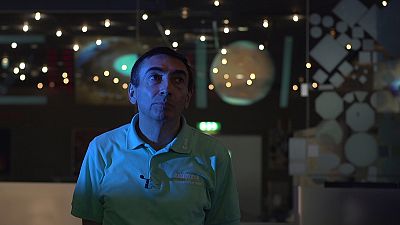 The ExoMars mission is at a critical moment. The spacecraft is very close to the red planet, and tension is mounting ahead of arrival on 19th October.
Michel Denis is ESA's Flight Director for ExoMars: "We've completed most of the cruise phase. We left Earth just over 6 months ago, and in a few weeks we're going to arrive at Mars," he says.
"We can't delay the moment we arrive at Mars by a day or even a minute. So everything relies on us, and the countdown is underway and there's no way we can stop it," Denis tells Euronews.
Europe and Russia are working together on the ExoMars mission. How does Denis rate their chances? "The chances of success of the TGO orbiter are very high, and the chances of success of the lander Schiaparelli are high too, but of course it's more difficult to land on Mars than to put yourself into orbit around it," he says.
The red planet continues to be a source of motivation and fascination for the team controlling the spacecraft from ESA's ESOC centre in Germany: "Mars is the culmination of a dream. It's these huge distances, massive spaces, the idea that one day humans will go and visit this planet or even stay there. And of course there is the idea that there might have been, or there could still be life on Mars," Denis concludes.