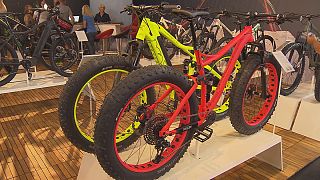 Cycling keeps you fit, young at heart and is growing in popularity as witnessed at the Eurobike Fair in Friedrichshafen, Germany.
The biggest driver of the industry in recent times is the e-bike or pedelc, which opens up the market to a wider consumer base.
Markus Fritsch, from Velobiz says the pedalec is attractive across the board:
"What we are seeing more and more in the industry is that e-bike technology conquers all life stages of the cyclist. You will find here great e-bikes for transporting loads, for the family to make the weekly shopping.
Another exciting topic is of course again the e-mountain bike, the sporty e-bike, with which one can do bike tours in the mountains. And you can see here a lot of new models, a big new variety, with a very sporty orientation of the e-bike theme. "
So you think you can ride a bike? Here's how you do it German-style: http://t.co/OyoCHVKuCp#eurobikepic.twitter.com/4xBz1AKdHI

— DW – Culture (@dw_culture) August 27, 2015
The E-Trike HP developled by Velotechnik allows those whose balance is not as it was to benefit from the activity.
Folding bikes are in demand and the one produced by Tern is the most compact of its kind according to the manufacturer.
German manufacturer Maxx Bikes specialise in custom- built bikes down to the last screw, are into the custom-made e-bike market.
Uwe Matthies, from Maxx Bikes says customers are becoming more and more discerning:
"Especially in these price ranges that these bicycles sell for, we have an average retail price of €2,500, the customer would like to see his individual wishes realised."
The event includes 1350 exhibitors from 48 countries showcasing their latest bikes, components, clothing, and gadgets at this year's Eurobike
Safe night riding is a theme at Eurobike be seen, be safe.