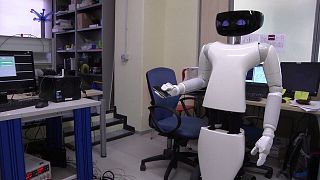 Italy's IIT, (Istituto Italiano di Tecnologia), in Genoa has a new humanoid member of staff. Called the R1, it was created in 16 months by a team of about 20 people including scientists, technicians and engineers led by Professor Giorgio Metta.
The team believes this new robot will eventually be the best servant anyone could wish for.
"R1 is a humanoid robot and we created it with the goal of making a robot that is affordable in terms of price. R1 has been designed with applications in the domestic environment and the household to be helpful initially maybe to people that have disabilities, who may need help and later to everybody," says Metta.
The idea behind R1 is to create a cheaper more accessible version of the iCub, used in laboratories worldwide as a robotic platform. But while R1 is an iCub derivative, many changes have been made for it to be economically viable.
It stands 1.25 meters tall, can extend its torso by 20 cm and weighs about 50 kilos. R1
has wheels instead of legs and is made of 50% plastic and 50% carbon fibre and metal, while the iCub is mainly made out of metal.
"We have completed the development of the hardware, and we have begun to create a software to operate the robot via remote control. The human sees what the robot sees with cameras, and with a sort of joystick he can command the robot to go pick up an object for example," says researcher Marco Randazzo.
R1 is still a work in progress, but researchers are confident it will soon be able to obey human voice commands. An exact price has not yet been set, but IIT says it will initially cost about the same amount as a small car, making it a potential investment for businesses, and later decrease to a few thousand euros for households. The first R1s could be available on the market within 12 to 18 months.