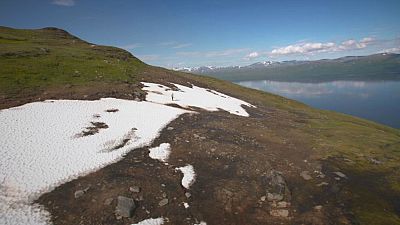 In this edition of Futuris we travel to northern Sweden, some 150km inside the Arctic Circle where winter temperatures can fall to -45ºc.
Arctic ecosystems are very simple. So it is very easy to see the processes that are active on these ecosystems.
Now, however, it's thaw season, writes our correspondent Julian Lopez Gomez: "It's a very short and ideal period for research in this extreme environment so scientists are studying the complex interaction between subarctic plants and their pollinators."
Futuris went to meet a group of biologists studying the basic mechanisms used by plants to survive in this challenging ecosystem.
And the variety of colours of their flowers is one of those survival mechanisms as pollinating insects are attracted by their colours.
"In other extreme environments, the more honey bees or bumblebees there are around, the more diversified the colours of flowers become; purple, pink, violet, blue, and many more colours," explained biologist Hiroshi S Ishii from University of Toyama. "If main pollinators are just flies, for instance, colours of flowers tend to be more limited, mainly yellow or white."
Researchers want to know if the same pattern reproduces here in the subarctic region.
Scientists are closely studying animal anatomies and also have a good look at the colour of flowers, through a technique called "optical spectrometry".
"All our natural environments virtually depend on the interaction between pollinators and plants. The more we understand about this natural partnership, the better we'll be able to protect those environments," added Ishii.
Polar regions – including subarctic and sub-antarctic areas – are huge, and expensive to do research in. So scientists have to pool their resources to better study them.
A European team is also using the short summer here to study flora and insect density and distribution.
Similar field campaigns have been done in northern Canada and Greenland, and more are planned for northern Siberia.
Fredrik Dalerum, is a terrestrial ecologist from Stockholm University: "Arctic ecosystems are very simple. So it is very easy to see the processes that are active on these ecosystems. If you are working with climate impact in the Boreal or Mediterranean forests, these systems are so complex that it is very difficult to tease out what processes are influencing which species."
The need for a common approach to produce better science in these challenging environments is the raison d'être of European research projects like EU-PolarNet and others, at which the Abisko Scientific Research Station is actively taking part.
Keith W Larson, evolutionary ecologist, from UMEA university told Futuris: "We have a researcher from Denmark, and another researcher from the Netherlands, who work here at the Abisko Research Station, who have projects in Alaska, for example, or in Greenland, or in Siberia, where they replicate the things I do here, to see if the results are similar. So we can actually say that what's happening here is really representative of what's happening in the subarctic regions, for example."
Just half meter above the underground permafrost cap, some unique mires are also under multi-disciplinary scrutiny.
Researchers analyse gases – CO2, methane and water vapor – to see how much carbon is absorbed by this environment and what the implications for the whole surrounding ecosystem might be.
"In the Arctic, warming is happening faster. There are changes in hydrology, there are changings in growing seasons, there are changes in plant community structures," said Patrick Crill, Biochemist from Stockholm University. "So we really need to understand that in order to be able to tease out what the anthropogenic (human) contributions to those changes might be."
Gas fluxes have been constantly scrutinised in these mires for over a decade, with researchers aiming for more multi-disciplinary cooperation to obtain even more meaningful data.