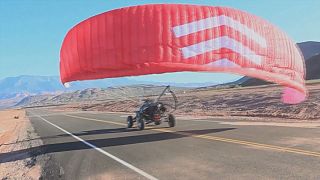 This summer forget private jets, one of the most coveted personal aircraft at the recent Farnborough International Airshow was four-wheeled and best described as a "flying car".
It looks like a getaway vehicle straight out of a James Bond movie and its makers, Parajet, say it moves like one too.
SkyQuad, part all-terrain buggy, part light-aircraft – drew envious glances from visitors. On the road it can reach a top speed of 115 mph, courtesy of its one-litre EcoBoost direct injection turbo engine. It also boasts 0 to 60 in a little over four seconds.
But when switched into flight mode and fitted with a paraglider, its three-blade carbon fibre propeller on the rear can power it to maximum air speeds of 55 miles per hour.
Tom Prideaux-Brune, Managing director of Parajet, says it's quite a ride: "It's great on the road, it's great off-road and it's great in the air as well so I think that was always the concept really.
"To have a car which you could have a lot of fun with on the ground, but then could also take you airborne and take you to new places which you might not have imagined possible."
SkyQuad began life as a heavily modified off-road buggy, but after proving the concept of a flying car by journeying from the UK to Mali, Parajet began designing a real production model.
Its low 420kg weight and roll cage-style frame make it suited to demanding terrain and sand dunes.
But how does the vehicle fly?
Prideaux-Brune says: "If you want to fly, you would stop the vehicle you'd get out briefly, you'd switch the transmission to the wheels to the propeller and then you'd get your glider out and lie it down on the ground.
"You'd clip it [the glider] in and then get back into the vehicle, drive forward with a bit of force. The glider comes up above you, and then you accelerate forward.
"At this point you have the toggles for your glider in your hands, a little bit of brakes and you're off."
The makers feel there is a niche in the market for a vehicle that can cover large areas on the ground and then take to the sky and see things from above, such as in the military sector, search and rescue and anti-poaching.