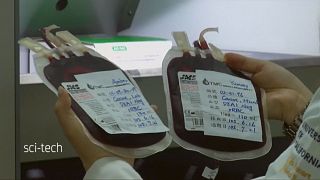 There is already an established network of blood banks for humans but what about one for our favourite pets.
Well the animal hospital in Pingtung County, Taiwan, has opened what it claims is the first dog blood bank in the country.
It hopes to help the injured pets as hospitals don't have a supply of their blood.
To be a donor, dogs have to be between one to eight years old, weigh more than 20 kilograms and have received regular vaccinations.
The blood can be used to help animals who have lost a lot of blood, to treat anaemia and to help those with joint diseases.
Veterinary medical student Lun Hui-Ching says: "Of course, the more dogs you can rescue, just like when people donate blood, you don't know who you are saving, but you are willing to do it.
"Dogs are like that, too. Also, storing their blood is difficult, so I think it's great that we [can] complete this task by relying on an institution such as this. Dogs probably also understands that they have saved a lot of their fellows."
Tsai Yi-lun, an assistant professor at the department of veterinary medicine and runs the program, says she was inspired after visiting an animal blood bank in Thailand in three years ago.
"If you suddenly need [a blood transfusion], it's not guaranteed that a solution can be found immediately, nor whether or not the donor dog is healthy and eligible to donate blood and if he doesn't have any diseases, Tsai adds.
"Under those kinds of circumstances, sometimes it is actually impossible to administer that kind of [blood transfusion] treatment, or at least not with the right timing. Because blood transfusions are not a means of treating diseases, they rather prolong the time frame for treatment".
Tsai hopes the blood bank can also help research into chronic diseases from which many dogs suffer.
The animal hospital hopes to bring the service to the whole of Taiwan soon while Tsai hopes to extend the service to other pets and livestock in the future.