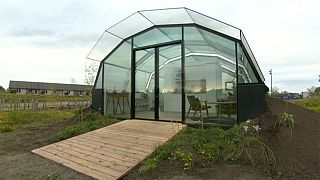 What would it be like to live in a glass house where you and your body are aware of every minute of daylight?
You are noticing everything that happens

Volunteer
In Bornholm, in an often dark and wintry Denmark, a team of Oxford University researchers is trying to find out in its investigation into the health-benefits of daylight.
In particular, the team of scientists want to find out how large amounts of daylight affect circadian rhythms, sleep quality and mood.
"There is strong evidence to suggest that light, and particularly the natural light and dark cycle, plays an important role in people's lives," said Joachim Stormly Hansen, the project manager at The Photon Space.
The project involves 30 Danish volunteers, who take turns to live in the glass house.
"The most special thing about this house is that it does not matter if a bird is flying over, well then you are aware of it, you are noticing everything that happens. It is so quiet and completely silent, you just enjoy that you are all of a sudden in the middle of nature," said one of the volunteers, Nana Rytter Nielsen.
The 35 square-metre house is designed by the British company Cantifix which sees its potential in both futuristic housing and the tourist industry.
It is looking into designing homes made mostly of glass whose transparency can be regulated by the inhabitants, enabling them to have privacy when they want it and enjoy bathing in light when they don't.
The experiment, which started at the end of June, will last six months and will hopefully help scientists understand better how light mysteriously influences all of us.
"Well, I hope that the participants that will stay in the pod will enjoy it and we get the data that actually correlates with what we are feeling. And if we get this kind of correlation, we can take it forward and recommend what kind of light matrix we actually need for our physiology," Katharina Wulff, a scientist at Oxford University said.
The project will also focus on the effect of daylight on an array of diseases – from obesity, diabetes and stress to serious neurological illnesses like
Parkinsons, Alzheimers, depression and schizophrenia.