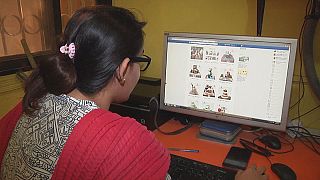 Inside the small manufacturing unit of Sam's Cake Factory, employees are busy baking cakes and producing other gourmet delights.
Sam's Cake Factory has experienced huge growth since it was launched a few years ago by Sumaira Waseem, a housewife who wanted an outlet for her talents.
"We started Sam's Cake Factory through Facebook four years ago," explained Sumaira Waseem. "Back then, I did all the work myself. We used to make around four cakes weekly, but now we get orders for around 50 cakes per week. All our marketing is done through Facebook and our website."
The success of this project has been achieved through e-commerce.
This trading system offers Pakistani women the opportunity to start businesses without the constraints they may have previously encountered in a conservative society.
Sheops is a marketplace website for women, founded by Nadia Patel Gangjee.
"Sheops is enabling women to sell online using technology," she said. "And reach out to a much bigger audience. We started off with a group of five women and now we are community of over 26,000 and growing daily."
With more and more Pakistanis now online and reaping the benefits of online shopping, the growth of
e-commerce looks set to continue and to open up more business opportunities for women living in Pakistan.
Look what just came to the office - an awesome Dawn-themed cake from Sam's Cake Factory! Hoping it's a sign #PakvsAuspic.twitter.com/94dmGbwe6W

— Atika Rehman (@AtikaRehman) 20 March 2015