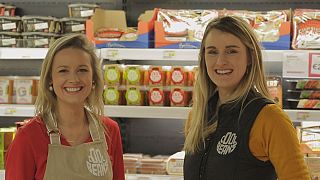 In this edition of Business Planet, host Giacomo Segantini visited Dublin to meet a woman at the heart of female entrepreneurship initiatives in Ireland.
Businesswoman Paula Fitzsimons is the National Director of Going for Growth, an initiative that she founded with the aim of supporting female business owner-managers that have been running their companies for two years or more.
Going for Growth, which is funded by Enterprise Ireland and KPMG, is based around peer-led roundtable sessions. Each roundtable is hosted by an experienced business leader, known as a 'lead entrepreneur.'
Fitzsimons is passionate about supporting women who are serious about growing their businesses.
"Men are twice as likely as women to be an entrepreneur. That's true right across Europe. But, more importantly, men are many times more likely than women to aim high in their business," she says.
"Four hundred female entrepreneurs have been through a cycle of Going for Growth since 2009," says Fitzsimons.
"In the last cycle, the entrepreneurs in six months grew their turnover by 25 percent and increased their employment by 13 percent."
In November, Going for Growth won the 2015 European Enterprise Promotion Award in the category 'Investing in Entrepreneurial Skills'.
congrats from all entirl</a> to Paula Fitzsimons :European award for &#39;Going for Growth&#39; initiative <a href="https://t.co/nktvW12U0A">https://t.co/nktvW12U0A</a> via <a href="https://twitter.com/Independent_ie">Independent_ie

— Alan Hobbs (@ei_ahobbs) November 20, 2015
Making a bean with beans
Business Planet went along to a Going for Growth roundtable hosted by 'lead entrepreneur' Caroline Keeling. She is the CEO of international fruit and vegetables company Keelings, which has 2,000 employees.
After the discussion session, Keeling explains: "The main issue that came out of it was time management. And how, with a small number of people, in a business that you're trying to scale, you can get to everyone of your opportunities."
Young entrepreneur Isolde Johnson is part of Keeling's roundtable group. Together with her friend Sarah O'Connor, Johnson founded dynamic start-up firm 'Cool Beans.'
Johnson and O'Connor wanted to launch a new quick and easy meal solution for busy young professionals like themselves that was super healthy as well.
They came up with nutritious baked bean meals in a pot and 'Cool Beans' was born.
With euronews</a> Business Planet filming Participant <a href="https://twitter.com/isoldejohnson">isoldejohnson & Biz Partner sarah17eoy</a> from <a href="https://twitter.com/CoolBeanCompany">CoolBeanCompanypic.twitter.com/Rxf2U0hxad

— GoingForGrowth (@GoingForGrowth) February 26, 2016
Johnson and O'Connor first tested their bean meals on the music festival circuit, before getting their product into a handful of Irish stores in 2014.
"We did a lot of in-store tastings, getting people to try the product, telling them about how healthy it was, how convenient it was, and just getting their feedback," Johnson says.
Today, the firm is exporting to the UK as well, and there are 260 stockists of the product. A deal with Waitrose has landed 'Cool Beans' on the shelves of dozens of branches of the premium supermarket.
"Irish meal maker Cool Beans strikes deal with Waitrose" Absolutely delighted for ye CoolBeanCompany</a> !! <a href="https://t.co/HyrPCIlQ4l">https://t.co/HyrPCIlQ4l</a> …</p>&mdash; Keelan Bourke (KeelanBourke) January 4, 2016
Johnson says she and O'Connor are still going for growth: "We want to add on more products. We want to be exporting across Europe. And, in the next three years, we want to be employing over 10 people with a turnover of over 6 million euros."
The Going for Growth initiative has recently been piloted in Finland.
Female entrepreneurship
Even though there are more women than men living in Europe, women represent only one-third of EU's entrepreneurs.
Going for Growth is an Irish initiative that has already helped more than 400 female entrepreneurs to be more ambitious and achieve their growth goals. It is sponsored by Enterprise Ireland and

KPMG

and it is free to all participants.
The initiative won the 2015 European Enterprise Promotion Award (

EEPA

) in the category "Investing in Entrepreneurial Skills".
Isolde Johnson is taking part in the Going for Growth programme and she now aims at turning her startup, the Cool Bean Company, into an international food enterprise.
Useful links