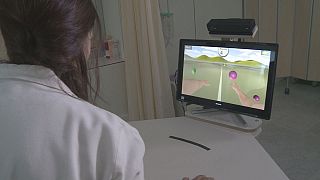 Right after giving birth to her second child…
…Gloria was fighting for her life.
A sudden stroke paralysed her. Her speech almost disapeared.
A long, painful rehabilitation included playing with this new game based on Virtual Reality.
The tool helps to stimulate the brain…
… to regain control of the body movements, specially the arms.
The new virtual reality game has been succesfully tested in clinical tests.
It is now ready to enter the market.
Strokes rank as the third most common cause of death in industrialised countries.