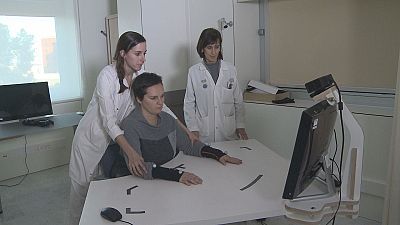 At a sophisticated lab in Barcelona, researchers are convinced that computer models based on virtual reality can help people who have suffered strokes, by providing them with better rehabilitation techniques. The claim is not just science fiction.
Right after giving birth to her second child, Gloria was fighting for her life. A stroke almost completely paralysed her; she could barely speak.
For months, she engaged in a rehabilitation programme that included playing with a brand new virtual reality game.
An experimental rehabilitation approach for stroke patients is being tested at the Vall d´Hebron Hospital in Barcelona.
"The rehabilitation programme was really motivating, because I learnt new things. I was able to greatly improve the movement of my arms, in a very subconscious, natural way," explained Gloria Bou Ferreiro a stroke patient at the hospital.
The virtual reality game was developed as a tool to complement classic rehabilitation techniques for stroke sufferers.
The goal is to teach the brain to control the body movements again, specially the upper extremities.
"We think this technology can be really useful for patients who have already finished their classic hospital rehabilitation and are back home. These patients often think that rehabilitation is over; their brains don't use the sides that have been affected by the stroke any more. This tool has proven really effective in forcing the brain to really use the side that was damaged during the stroke." Susana Rodríguez González, the physician specialising in Physical Medicine and Rehabilitation at the Vall d´Hebron Hospital pointed out.
The game was developed at the Pompeu Fabra University, not far from the hospital.
A team of computer scientists, psychologists and bioscientists from a European research project created the system from a basic starting point: plasticity of the brain remains throughout life. So it can be used to achieve a functional reorganization of the brain areas affected by strokes.
"Our theory tells us that the brain is an active learning machine. It continuously builds models of the world. So we thought that maybe we had to provide the brain with new forms of stimulation, new forms of goal-orientated training to make the brain believe it can perform certain tasks. And that is exactly what we do via virtual reality," explained Paul Verschure, psychologist at project coordinator at Pompeu Fabra University.
The system optimizes the user's training by analyzing the patient's performances. And these virtual reality models can have further applications, far beyond rehabilitation.
"We can virtually assess how the brain activity in those affected regions of the brain are going to change. We can sort of visualize how the patient's motor and cognitive functions will be affected. And this can greatly help us to provide better diagnostics," explained Anna Mura who is a neuroscientist at Pompeu Fabra University.
Virtual reality can indeed help stroke patients in recovering the control of their upper extremities, researchers say.
Now they aim at using the same tools to improve other brain functions that are often also affected by strokes.
"Alterations in language, swallowing problems, equilibrium disorders, neuro- psychological problems, attentional disorders… We could also address those issues with tools like this. Strokes not only affect the patient's physical strength and psychomotor activity. We could also address those issues with virtual reality tools like the one that we have developed," said Susana Rodríguez González.
After successful validation tests, first units of the virtual reality tool are about to be installed in clinics all over Europe.