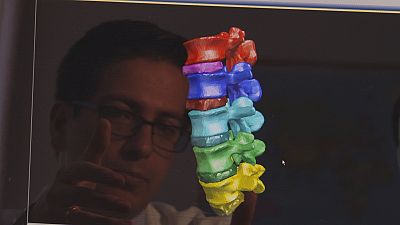 Treating spinal ailments and injuries is complex but now an EU research project in Hungary has developed a computer-generated patient, an 'avatar'
of the individual being treated, to allow the development of better therapies.
Budapest's MySpine project creates a digital platform based on a patient's real clinical data and allows doctors to visualize a 3D rendering of the spine. The digital model imports clinical data and transforms it into a navigable environment.
"MySpine uses two kind of information. The most important arrives from the MRI, (Magnetic Resonance Imaging), scan and CT, (Computer Tomography), scan.
MRI gives us data about cartilage, and CT provides us data about bone tissue. Then we can visualize the spine and the vertebrae. Combining this information gives us a specific model for each patient," says the National Center for Spinal Disorders' Péter Endre E'ltes.
The next key step is turning this data into something visual.
"Basically we, (as digital experts), developed the role to create an algorithm able to process diagnostic images, as the surgeons deliver them to us, and to transform that into a digital environment that can be modified," says Biomedical Image Computing Engineer at the University of Sheffield Alejandro Frangi.
Treatments and prognosis of spinal disc degeneration are still based on trial and error. Now it may be possible to test different treatment options on a computer and to see how the patient's real body would react.
Damien Lacroix is a Mechanobiologist also at the University of Sheffield, and is the MySpine Project Scientific Coordinator:
"We rebuilt the model in 3D and we created a physical and virtual model of the lumbar spine of each patient. Then we can simulate the physical activity of each patient, as a function of their size, weight, and everyday activities. In this way we can predict the best treatment for this specific person."
This is a significant step ahead that would allow clinicians to predict how treatments will evolve, and not just over the short term.
"That's why we try to find or develop an individual way to predict the effects of therapy in the long term, 5 or 10 years, and to predict it in an exact way," says Spinal surgeon at the National Center for Spinal Disorders Budapest A'ron Lazàry.
What is really going to change for patients?
For some patients treatment elaborated on the basis of a 3D model could associate a program of physical activities with the surgery. That generally improves the quality of life.
"I recovered quickly after the operation, I had to change my life, my daily routine, doing sport, massages, I had to reprogram my life completely, but now everything is going fine," says Dóra Gömbös, one such patient who can testify to the effectiveness of the new technique.
Digitalization of surgery will push forward medical treatments. We can forecast a future where each patient will have his own "avatar".
"Really we are at the beginning of a clinical revolution, with the use of digital instruments, in the way to simulate how the human body will react after surgery," says Damien Lacroix.
www.myspineproject.eu