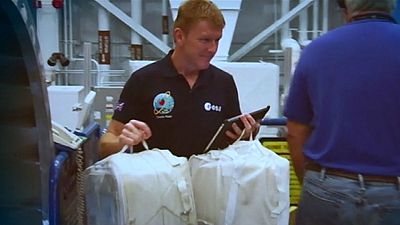 What is the next best thing to going into space? For some perhaps it is being in charge of those preparing to blast-off into the skies. Gerhard Gritner has the enviable task of training future astronauts for life and work aboard the International Space Station.
In this month's edition of Astronaut Academy, he takes us on a tour of the training centre in Cologne where Britain's Tim Peake has been readying for his mission in space.
Timothy Peake
Born in Chichester, England in 1972, Tim graduated as an army pilot from the Royal Military Academy Sandhurst before becoming a test pilot for the Apache helicopter in the British Army. He is Britain's first astronaut to visit the
ISS
and has completed training for spacewalks using both Russian and US systems. He has run the London Marathon, and works as an ambassador for science and space careers in the UK. He launches on a 6-month mission to the
ISS
in November 2015.