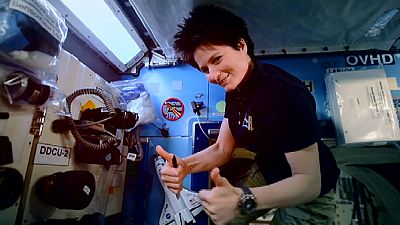 "Living and working in space can be a challenge, because things float, and you float. Which is a lot of fun of course, but you have to get used to it," smiles Samantha Cristoforetti as she reveals to Euronews what it was really like to live through her record-breaking 200 day stay on the International Space Station.
Just like anyone who moves to a new home, astronauts have to spend a few days getting used to their unfamiliar environs, with the added complexity of being in microgravity. "At the beginning it was easy to get disoriented. Not in a way that I was desperately wondering what was up and down. But sometimes I would come up from a module and it would take me second to actually figure out what direction I was supposed to go to go to the place I wanted to go to," Samantha says.
Although the astronauts can float freely as they wish, the teams who built the ISS do impose a concept of up and down onto the orbiting research laboratory by making sure that the labeling of objects and sections of the space station are always in the same direction, and by describing locations of experiments and equipment as being in the 'ceiling' or 'deck'.
Many astronauts have reported feeling a little unwell during their first few days in orbit, not just because of the floating sensation, but also because the parts of the body that deal with balance and orientation have fewer reference points in the closed environment. And Samantha admits that she was quite cautious at first as she moved around the ISS, going from one handrail to another before she learnt to control her body. "As you get more experienced and more comfortable with floating and controlling your body in the three dimensions then you can just push yourself off and land exactly where you wanted to be," she says.
She also describes how handrails become footholds in space, as astronauts tuck their toes under the ever-present blue strips of metal in order to secure themselves as they work. In fact, the upper limbs become the main means of locomotion when you need subtlety more than force to move around. "In space we basically walk with our hands," Samantha laughs. "A bit like monkeys".
Samantha Cristoforetti
Samantha launched to the
ISS
on November 23, 2014 on a six month mission. She is a captain in the Italian Air Force and has logged over 500 hours flying six different types of military aircraft. Born in Milan, Italy in 1977, Samantha spent a year as an exchange student in the US before studying for a Master's degree in mechanical engineering at the Technische Universität Munich in Germany. She enjoys hiking, scuba diving, and yoga.