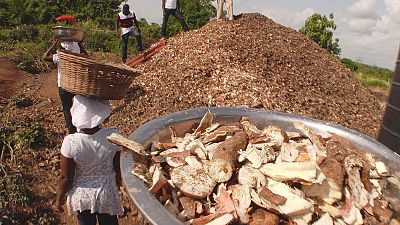 Managing food waste is both a challenge and an opportunity for developping countries. Every month, the St. Baasa factory in west Ghana transforms around 400 tons of cassava into by-products. Previously, the resulting waste, around 120 tons of peel and stalks, was lost. Now the factory is testing a way to create value out of this loss.
The cassava waste is grounded and mixed with sawdust. The resulting compost is dried, bagged and injected with mushroom spawn. Around 5 days later, edible mushrooms start to sprout at cropping houses.
Expanding production capacity
''We have increased our overall income by around 15 per cent with this mushroom production, said Constance Frimpong a food technologist at the factory. ''This is monthly. We intend to increase our production even further. Because there is so much peel from the cassava, we will build more cropping houses for mushrooms. We are planning to increase our current production of 5 tons of mushrooms per month to 20 tons per month.''
Cassava can decompose quickly so the rate of the whole mushroom production becomes shorter. Cassava also has the basic nutrients mushrooms need to grow.
''The temperature range for good mushroom production is between 25 and 27 degrees celsius, according to Juanita Prempeh, a Ghana Food Institute biologist.''Not too much moisture, probably between 60 and 70 per cent. And relative humidity of around 60 per cent. These conditions are ideal for mushrooms.''
Complementary research on this European-backed project on both cassava and yam was done in laboratories in Kent, England. Food scientist Keith Tomlins explained how the product was sterelised: ''With the cassava, what we were able to do was have a fermentation step. The natural heat produced by this natural fermentation in fact sterilises the product. So in the end we were able to develop a more environmentally friendly use of cassava waste.''
Closer to the people
Back in the Ghana food factory managers are already working on ways to bring this scientific innovation closer to the local population.
''The waste that we are generating can bring income and also wealth to other people, said Baah Dapaah, the General Director of the St. Baasa factory. ''We are now going to train our local farmers to carry out the whole process. We are going to provide them with the bags so that they can produce mushrooms themselves and earn extra income.''
A new challenge
Local farmer Stephen Adutwum said he was ready to take up the challenge and added: ''It's an interesting project for us farmers. We will be able to earn extra income in between our harvesting seasons. We are ready to follow the scientists' instructions and knowhow on how to use this cassava waste.''
Farmers and scientists hope that a country like Ghana could soon be able to produce around 650 tons of edible mushrooms per year from cassava waste.