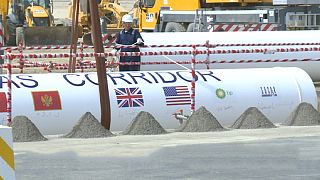 Turkey and Azerbaijan have begun to work on an oil pipeline project which, it is claimed, will have a big impact on global energy markets. Construction has begun on the South Caucasus Pipeline (SCP), which is the first phase of the Southern Gas Corridor. The pipeline will connect to the Trans Anatolia Natural Gas Pipeline (TANAP) via Georgia and eventually reach Europe.
Energy Minister Taner Yildiz said: "We will start the work in Turkey during March 2015. This is a project which became a peace agreement and TANAP will also have technical, political and geographical importance.''
Over the years EU/Turkey energy relations have focused on natural gas. The new pipeline will be developed as Europe seeks to diversify its energy sources from existing suppliers.
Azerbaijan"s President, Ilham Aliyev, is positive about the scheme: "This project will have a good impact on Azerbaijan. We will be able to sell our gas to global markets. That is also good opportunity for countries that buy gas. They will have a new supplier. This project will benefit everyone for the next 100 years.
The first phase of the $45 billion Southern Gas Corridor is expected to begin operating by 2018, with a capacity of 16 billion cubic metres, rising to 31 billion cubic metres per year by 2026.