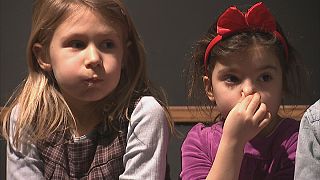 "I have never seen women scientists, I've only seen men."
"Girls get this upbringing where they shouldn't be scientists, they should do something else."
"Girls are very interested in science. Maybe they don't know that, but they are."
These opinions, from three Danish girls and boys, could have come from any young person around Europe. Gender-based ability differences are laughed out of the playground, so why do they rear up in adult life?
The Experimentarium in Copenhagen is a science centre with a difference. Using the facility is 15 year-old Cecilie Kaspersen, who is dissects a lung to show how it works. Cecilie is a 'Young Science Communicator', trained to get teenagers switched on to science.
"I think that it's great that I can be whatever I want to be, that all paths are open, including a career as a scientist. For me that's an option – I haven't decided yet, but I like the idea," she says.
Studies show that girls are as interested and as good at science as boys. However, a researcher's career remains a rare choice for young women: gender stereotypes undermine girls' confidence, excluding them from male-dominated fields.
One approach might be projects like TWIST (Tomorrow's Women in Science and Technology). Its co-ordinator, Sheena Laursen, told euronews: "Often we get comments such as – oh, what's the problem, women can do science as well – and yes, I think people do think that today; but the situation is, and definitely in Denmark, that the higher up in the hierarchy – the less women, and I think that's a shame for both genders."
This EU-funded TWIST project aims to challenge the social prejudices that cause gender discrepancy. In Europe, male scientists dominate, especially in maths and engineering. Many women miss career opportunities, while European science wastes a large pool of potential talent.
One interactive exhibit presents positive counter-examples: it is a collection of video interviews with leading female European scientists, including Danish Associate Professor in Astrophysics at the Neils Bohr Institute Anja Andersen.
"This is about establishing role models for young women and showing what a female scientist is, so to get away with the prejudice ideas either that there are no female scientists, or that female scientist has to be in a specific way. And I think that's the great way about the project – that you see women from all the European countries, and they are very different, they do different kinds of science, and they're all very excited about the science," Andersen said.
One way to make gender prejudices obvious is to question them – and that is where Twisty comes in. The remote-controlled "virtual puppet" talks to the science centre visitors, probing at the tough ethical questions about women's role in society.
"I'm a bio-technical computer," he says. "That means that there is someone who has taught me what to ask. But I'm a computer too."
Sara Clausen, who Twisty's puppeteer, said: "It's a nice way to talk to people without them realising that it's an actual person. They throw off the masks that they would be wearing in front of other persons, and just say that they think."
"Most of them think that women are not really capable of thinking logically, and they think that women should just be at home," adds Twisty.
While the TWIST project wants to raise public awareness of the "glass ceiling" that prevents women from getting to the top in research, another European initiative targets high school girls, encouraging them to pursue scientific education.
Budapest's Óbuda University is one of Hungary's leading computer sciences and engineering centres. It lacks female students, who generally have low expectations that these fields will want them. The GENDERA project invites high school students to visit research and academic institutions to dispel this misconception.
"It is very important to show them what these faculties, these universities, are doing, how the teaching is going, what they can learn there, and also to persuade them that they are equal with the boys, and they should try to get there," says GENDERA co-ordinator Dora Groó.
In fact, leading roles in computer engineering throughout its history have been played by women – such as "the first programmer" Ada Lovelace or Rear Admiral Grace Hopper, a developer of the first electronic computer.
"This is a great field for women, because women see the world differently to men. A man usually focuses more, and women usually consider many more things, and that is a great enhancement and great opportunity for the future," said Kutor László, Professor of Computer Engineering at Óbuda.
Annamária Cserfalvi sees no reason why science education has to remain a field in which women are under-represented. And she has an added obstacle to overcome; she is hearing-impaired.
But with her degree in Computer Engineering, she has developed a training course for other hearing-impaired people. She has taught the course at the university for 10 years.
"I chose computer engineering because this field of knowledge opens unlimited opportunities for everyone – including hearing-impaired people. Everyone can advance in this direction, and I believe women can perform just as well as men. We simply need more concrete action to make that a reality," she says.
A biotech lab is under development, setting up a system of wireless sensors to monitor elderly patients and alert health services in case of an emergency. Computerised healthcare and telemedicine are growing, providing career opportunities for female graduates brave enough to enter this field.
"These things are not explained in schools. I think it's a very hard thing, because these girls are going into the unknown, and they don't have any information about their future and the way they're going to study and live their scientific career," said Laura Patik, a 10th-grade student at the SEK Budapest International school.
So should society maintain the barriers of traditional gender roles, or would we all benefit from more diversity? Back in Denmark, the TWIST project holds a series of high school debates to prepare a national conference on gender equality in science.
"I think it's important to hear what young people have to say. If I were just standing there and telling them stuff it would have another effect – I think you really need to bring them on, hearing their opinions," said TWIST debates moderator Victoria Alexandra Bjerregaard. She turns to her audience; "In science, only 11 percent of European professors are women. Do you see this as a problem?" she asks. The responses are not wanting:
"We have 100 percent of professors who are good, and it doesn't matter if they're men or if they're women."
"I think it's the society that puts us in two boxes – that girls are supposed to think with feelings and artistically, and boys are supposed to think logically."
"We have to accept the fact that men and women are different. But not in a 'better' way or a 'worse' way."
One huge problem is that often a successful scientific career seems incompatible with family and children. With already-groaning researchers' workloads getting ever-heavier, many young women fear having to choose between their personal and professional lives.
"You need a change in the whole of society if you want to see women as just as good scientists as men. But I don't know what to do. I think it's too difficult," says Thor Banke Hansen, a Political Science teacher at Øregård Gymnasium.
As these and other experts from around Europe prepare their recommendations for the decision-makers, one thing is clear: science and society will have to work together to break the gender barrier.