Budapest ready to U-turn on university funding row with Brussels
Comments
By Sandor Zsiros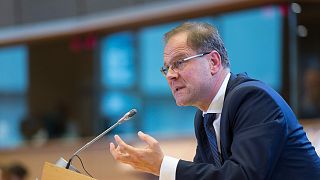 -
Copyright

Thierry Monasse/AP
Hungary is ready to make a U-turn in its latest row with the European Union over university funding, according to the country's minister responsible for EU funds.
In early January, the European Commission warned that most Hungarian universities will lose funding from Erasmus+ and Horizon Europe - two EU programmes funding education and research respectively - because of the increased influence of the governing party and government members on university boards.
Tibor Navracsics, Hungary's Minister without portfolio for Land Development, told Euronews that removing government members from university boards will not be a problem.
"From our side, it is not an obstacle if the European Commission raises the issue that politicians cannot sit on boards as trustees," he said.
"What was also raised as a problem, that the nature of the mandate of the current board of trustees is not time limited. We can discuss this as well. The Hungarian government is also open in this regard."
In 2021, the Hungarian state privatised the majority of universities (21 in total), which are run now by private foundations - in many cases with high-level government politicians on their boards.
Navracsics, for example, is currently the minister negotiating with the EU for funding from Erasmus+. He is also a board president of one university. 
There is also the country's foreign minister, Péter Szijjártó, its justice minister, Judit Varga, and Fidesz MEP László Trócsányi, as well as many more pro-government politicians, all in leading positions at Hungarian universities.
According to András Bíró-Nagy, an analyst at Policy Solutions in Budapest, the Hungarian government is now in retreat after taking on too many losing fights with Brussels.
"What we heard now from Minister Navracsics on the Erasmus issue, was a clear retreat compared to the previous position of the government," Bíró-Nagy told Euronews.
"The question is now how far will this attitude apply to all the other questions on the table because let's not forget that to fulfill the EU's 27 demands - called super milestones - they will need to have a similar willingness to compromise, willingness to agree from the Hungarian side."
The current measures by the European Commission are part of the so-called rule of law mechanism, which enables the EU to suspend funds if they see systemic risks in a member state. Hungary can only end this process if it manages to fulfill all conditions of the 27 super milestones.
They include 17 steps already negotiated as part of the rule of law mechanism, as well as reforms to strengthen judiciary independence and new rules on auditing and reporting on EU funds.