State of the Union: Cut through Ursula von der Leyen's hour-long speech with this word cloud
Comments
By Euronews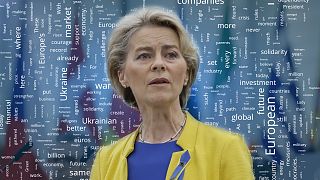 -
Copyright

AP Photo/Jean-Francois Badias
Ursula von der Leyen's State of the Union address is 21 pages long and took the Commission president just under an hour to deliver.
But a quick word search allows for a just-as-quick analysis of what she considers to be the EU's main priorities.
Here are the 10 words she said the most frequently during the speech and one of her most memorable quotes with them.
European (21 times): "Millions of Europeans need support"
War (15 times): "Never before has this Parliament debated the State of the Union with war raging on European soil."
Market (14 times): "Our Single Market is one of Europe's greatest success stories. Now it's time to make it a success story for our Ukrainian friends, too."
Future (13 times): "But with Europe's glaciers melting faster than ever, future droughts will be felt far more acutely."
Ukraine (12 times): "Europe's solidarity with Ukraine will remain unshakeable."
Companies (11 times): "Major oil, gas and coal companies are also making huge profits. So they have to pay a fair share — they have to give a crisis contribution."
Gas (10 times): "Russia keeps on actively manipulating our energy market. They prefer to flare the gas than to deliver it."
Global (10 times): "This is why our Union will push for an ambitious global deal for nature at the UN Biodiversity conference in Montreal later this year."
Russian (8 times): "Courage has a face, the face of Ukrainian men and women who are standing up to Russian aggression."
Electricity (8 times): "The current electricity market design — based on merit order — is not doing justice to consumers anymore."